Material Handling and Storage Racks
Dual Angle Flow Rack also acts as part presentation stand.
Press Release Summary: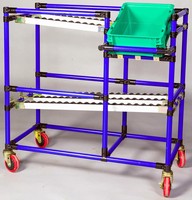 To facilitate component retrieval and make the process ergonomically efficient, multifunctional flow rack provides process station container storage, gravity feeds container to its point-of-use, and angles container to part presentation orientation. Compact, compound rack system is suited for use at workstations, assembly points, machine loading positions, kitting locations, and other part offloading locales. Skatewheel or full-width roller conveyor styles are available.
---
Original Press Release:
Creform Introduces New Ergonomic Dual Angle Flow Rack & Part Presentation Stand
Creform® Corporation (Greer, SC) has developed a new compact yet multi-functional flow rack that provides process station container storage, gravity feeds containers to their point-of-use, and then angles the container to a part presentation orientation making component retrieval easy and ergonomically efficient. The rack and part presentation stand features an angled conveyor-type aisle that slopes lengthwise to allow containers to flow from the load end to the picking end...then a second angle tilts the container to lower one end of the box. The innovative compound rack system is ideal for use at workstations, assembly points, machine loading positions, kitting locations and other point-of-use part offloading locales. The use of the compound angle flow rack in manual part handling operations, by positioning components close to workers and at appropriate heights, helps to reduce repetitive bending and overreaching motions that can lead to strains and injuries. It also provides ample inventory storage space to keep containers off the production floor, making work areas safer. The angled alignment of the container or tote box at the workstation also provides an easy visual aide to inventory levels. The Creform dual angle flow rack is constructed using the Creform® System of adaptive components, including plastic-coated steel pipe, metal or plastic joints and hardware accessories, that allow users to detail custom design and construction configuration to meet specific application needs. Unit designs can incorporate multiple supply lanes plus empty container return lanes as needed. They can be made long enough to reach from distant aisles to isolated stations, or small enough to fit in tight locations, and to handle an array of container sizes. Units can also be constructed to a specified, fixed height to accommodate one person, or as height adjustable structures for use with multiple personnel. Two styles of conveyor sections are available to best suit the application. If containers to be used on the compound angle flow racks have a uniform, rigid bottom 'skatewheel' style conveyor units can be used. For applications where surfaces are irregular or the container is fabricated from softer corrugated or box board material, then full width roller conveyor sections may be used to provide a wide support area. Other construction options include using stabilizing feet, including height adjustable styles, or with casters to make the units easily maneuverable. Casters with stops hold the racks securely in place during use. Racks constructed using ESD-rated components are also available to protect sensitive electronic apparatus from the build up and discharge of static electricity. Creform componentry can be used to also build conventional flow racks and simple part presentation stands; push carts and trailers; roller conveyors; hinged shelf carts; tilting racks; work tables and workstations along with portable tool cribs and storage units. The Creform System can also be used to implement economical and easy-to-install Automated Guided Vehicle systems for efficient automated material handling. In addition to providing system components, the Creform Corporation also offers design and assembly services for a variety of structures...and partners with its customers in developing, implementing, maintaining and expanding progressive lean manufacturing missions. Visit www.creform.com for additional information regarding Creform Corporation, its products and applications.
More from Cleaning Products & Equipment