Dual Analog Switch exceeds USB 2.0 requirements.
Press Release Summary: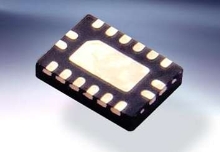 Featuring less than 1 µA power, bandwidth greater than 720 MHz, and DQFN package, Model FSUSB22 is suited for high-speed USB switching in portable design applications. It is configurable either as dual DPDT switch or 4-channel 2:1 multiplexer/de-multiplexer for USB 2.0 connector sharing or port isolation. Less than 15 A max quiescent current consumption contributes to extended battery life, while low On Resistance of 5 ohms minimizes noise level.
---
Original Press Release:

Fairchild Semiconductor's New Low-Power Dual Analog Switch Exceeds USB 2.0 High Speed Bandwidth Requirements


Wide bandwidth analog switch exceeds 3rd order harmonic for "cleaner" USB 2.0-compliant signals in ultra-portable and consumer applications

South Portland, Maine- February 17, 2005- Fairchild Semiconductor (NYSE: FCS) announces the FSUSB22 low-power, high bandwidth dual analog switch. The FSUSB22 is the ideal choice for high-speed USB switching in ultra-portable design applications by virtue of its combined low power (less than 1uA), wide bandwidth (>720 MHz) and small (DQFN) package. Moreover, the FSUSB22's wide bandwidth allows passage of 3rd harmonic frequencies critical for maintaining maximum signal integrity with minimal distortion, jitter and phase noise. Designed specifically to exceed the 240 MHz minimum bandwidth requirements of the new USB 2.0 "High Speed" standard, typical FSUSB22 switching applications include next-generation cell phones, digital cameras, set-top boxes, computer games, printers, notebooks and other emerging USB 2.0 High Speed-compliant devices. Configurable either as a dual DPDT (Double Pole / Double Throw) switch or four-channel 2:1 multiplexer / de-multiplexer for USB 2.0 connector sharing or port isolation, the FSUSB22 offers design engineers flexible options for various ultra-portable applications.

The 2.5 x 3.5 mm DQFN package offers a 75% space savings over standard TSSOP packages. The elimination of leads in the DQFN package lowers capacitance and inductance, which results in lower noise and crosstalk between the I/O terminals. Further, the exposed die attach on the bottom of the DQFN package improves the thermal performance of the device.

Other key features of the FSUSB22 USB 2.0 analog switch include:
o Exceptionally wide bandwidth (>750 MHz; -3 dB) ensures greater signal fidelity by minimizing edge and phase distortion;
o Less than 15A (maximum) quiescent current consumption contributes to extended battery life;
o Low On Resistance (RON) of 5 Ohms (typical) reduces noise level;
o Greater than 4 kV ESD performance for Human Body Model (HBM);
o USB High Speed (480 Mbps) and Full Speed (12 Mbps) signaling capability.

"As the leading supplier of USB 2.0 High Speed switches, the FSUSB22 sets the standard for smaller size, lower power and wider bandwidth solutions for the emerging generation of ultra-portable USB 2.0-compliant devices," said Gerald Johnston, Fairchild product manager for analog switches. "The FSUSB22 exemplifies Fairchild's commitment to meet the continuing demand for innovative technology solutions that provide the performance and value that OEMs need to take their ultra-portable designs to the next level."

The lead-free (Pb-free) FSUSB22 meets or exceeds the requirements of the joint IPC/JEDEC standard J-STD-020B and is compliant with European Union requirements.

Price: $1.20 each (1000 pcs)
Availability: Now
Delivery: 4 weeks ARO

For information about this product, go to: fairchildsemi.com/pf/FS/FSUSB22.html. For information on other Fairchild products, design tools and sales contacts, please visit www.fairchildsemi.com.

About Fairchild Semiconductor
Fairchild Semiconductor (NYSE: FCS) is the leading global supplier of high performance power products critical to today's leading electronic applications in the computing, communications, consumer, industrial and automotive segments. As The Power Franchise., Fairchild offers the industry's broadest portfolio of components that optimize system power through minimization, conversion, management and distribution functions. Fairchild's 9,000 employees design, manufacture and market power, analog & mixed signal, interface, logic, and optoelectronics products from its headquarters in South Portland, Maine, USA and numerous locations around the world. Please contact us on the web at www.fairchildsemi.com.

Fairchild Semiconductor
Sona Kim, Marketing Communications
3001 Orchard parkway
San Jose, CA 95134
(408) 822-2279 FAX: (408) 822-2410
Email: Sona.Kim@fairchildsemi.com

More from Architectural & Civil Engineering Products