DSTI to Attend 2016 Subsea Tieback Exhibition in San Antonio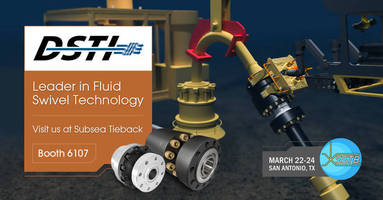 MINNEAPOLIS, Minn. - Dynamic Sealing Technologies (DSTI) will be showcasing its high pressure subsea and topside fluid swivel technology at Subsea Tieback Forum and Exhibition (SSTB) March 22 - 24, 2016 in San Antonio, Texas.



"As the industry continues to face economic challenges, now, more important than ever, is the time for oil and gas leaders to focus on standardization and improving production efficiencies," says DSTI V.P. of Business Development John Knoll.



"SSTB is a key event that provides the opportunity to educate OEMs and operators on risk-reducing solutions for increasing safety and longevity of subsea flowline connections and topside high pressure hoses."



DSTI's blend of capabilities bring world-class fluid sealing solutions to many applications including top drive hydraulic systems, coiled tubing and service reels, casing and cementing tools, subsea flowline connections and high pressure drilling hoses.



Visit DSTI at booth 6107 to learn more about the benefits of its subsea and topside fluid swivel technology.



About Subsea Tieback Forum Exhibition



Subsea Tieback has become the world's largest subsea technology event for one of the fastest growing sectors of the oil and gas industry. Companies from around the world showcase products and services ranging from subsea tie-in connection and tooling systems to structures, umbilicals, and drilling risers. For more information please visit www.subseatiebackforum.com.



About DSTI



Dynamic Sealing Technologies, Inc. (DSTI) specializes in the design, manufacturing and integration of rotary union products worldwide. DSTI's products are used to distribute a variety of fluids from stationary inlets to rotating equipment. The company offers a full line of standard products for a wide variety of applications, as well as complete, specialized rotary union design and manufacturing services.



For more information, please call 763-786-3758 or email info@dsti.com, or visit www.dsti.com.



More from Communication Systems & Equipment