DSLM Camera combines selfie functions and professional features.
Press Release Summary: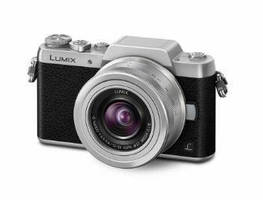 Incorporating 16.00 MP Digital Live MOS Sensor and Venus Engine, DMC-GF7 Wi-Fi®-enabled Digital Single Lens Mirrorless (DSLM) camera provides ISO to 25,600 and Contrast AF System that exchanges digital signal between camera and lens at 240 fps max. Rear monitor, which consists of 3.0 in. 1,040K-dot touchscreen LCD, tilts up to ~180° and automatically puts camera into Self Shot Mode. Users can also capture full HD 1920 x 1080, 60p video recording in AVCHD progressive and MP4 with stereo sound.
---
Original Press Release:

Panasonic LUMIX GF7 Featuring Modern Selfie Functions with Classic Styling



NEWARK, N.J. – Panasonic is pleased to announce a new Digital Single Lens Mirrorless (DSLM) Camera, the DMC-GF7 (GF7). The GF7 offers modern selfie shooting features - one of the world's most powerful trends - in a classic styled camera with its 180-degree flip-up monitor and a variety of creative functions.  The GF7 will be available at panasonic.com and photo retailers.



The rear monitor is a 3.0-inch 1,040K-dot touch screen LCD. It offers not only high visibility but also intuitive operation with touch control. The monitor tilts up to approx.180-degrees and puts the camera into Self Shot Mode automatically. In the Self Shot Mode, a variety of functions for selfie - Face Shutter, Buddy Shutter and beauty functions - are enabled. With Wi-Fi® connectivity, users can connect the camera to their smartphone / tablet to expand shooting flexibility. Pairing the camera and the smartphone is quick and easy, even without a need of inputting a password. It is possible to use a smartphone / tablet as a multi-capable remote shutter with a monitor. With the Instant Transfer function, photos are automatically sent to the smartphone / tablet immediately after shooting. On the other hand, both photo and video can be archived to a computer via the wireless access point (router) at home. The GF7 now integrates Jump Snap which lets users to photograph themselves jumping as if they are flying in the air using a remote control function via

Wi-Fi.



The photographic performance of GF7 is excellent for a broad range of photographic expertise. It enables end-users high-quality image capture with real-life details through high resolution, image rendering and color reproduction. Taking full advantage of a 16.00-megapixel Digital Live MOS Sensor and a Venus Engine, images are produced with sharp resolution even when exposed in low-light situations when ISO 25,600 is selected. The Contrast AF System of the GF7 excels in both speed and accuracy by exchanging the digital signal between the camera and the lens at max. 240 fps. A variety of extensive AF functions including Face/Eye Detection AF, Low Light AF, Pinpoint AF and One-shot AF enhance usability to help in a wide-range of shooting situations.



The GF7 also features full HD 1920 x 1080, 60p (60 Hz) high quality video recording in AVCHD progressive and MP4 with stereo sound. The practical full-time AF and tracking AF are available in video recording as well. The cinema-like 24p video with the bit rate of max. 24 Mbps provides richly expressive afterimage with overwhelming image quality. The GF7 features a new video recording option called Snap Movie Mode which lets users record video in designated short period of time (2/4/6/8 sec.) as they shoot "moving photos."



Last but not least, the iA(Intelligent Auto) mode and the Scene Guide make GF7 easy to use even for beginners. Portrait, Child, Scenery modes, which are used often, have respective shortcuts on the dial.



Available in black and pink, with a 12-32 kit lens, the GF7 boasts a sleek, stylish profile in traditional camera design. Its small size enables users carry it around and enjoy creative, high quality photography with the unlimited potential of an interchangeable lens system camera.



1. A New Hands-Free Selfie

In Self Shot Mode, Face Shutter and Buddy Shutter are integrated for an automatic shutter release. They work when the face is covered with a waving hand or when two faces come closer in a frame.



2. Ultimate Picture Quality Goes Beyond Expectations

The GF7 incorporates a 16.00-megapixel, large Digital Live MOS Sensor  with a Micro Four Thirds system standard that achieves both higher resolution and higher sensitivity image recording with less noise. The photodiode in each pixel is enlarged thanks to the adoption of cutting-edge Semiconductor Fine Technology to improve color saturation and the redesigned on-chip lens enhances light condensation to achieve high sensitivity.  Noise generation is minimized in both pixel circuit and digital signal readout circuits to provide an excellent S/N ratio.



The Venus Engine makes it possible to remove large blocks of noise which were formally hard to detect and helps produce clear, smooth images especially with nighttime photography. In addition, the Multi-process NR (Noise Reduction) works in two separate steps allowing even finer control over noise level. This results in improved reproduction of smooth human skin even in high sensitivity recording.



3. High Level of AF Performance

All LUMIX G, and the new GF7 use Contrast AF for its focus system. Compared to the phase difference system, Contrast AF boasts higher accuracy especially when shooting with a fast lens with small F value. The GF7 features high-speed Light Speed AF, making it possible to capture even fast-moving subjects clearly. Not only the accuracy but also the speed of AF in the GF7 surpasses the high-end DSLRs with phase difference. The camera and the lens exchange the digital signal at max. 240 fps to minimize the time to focus. The GF7 has high speed burst shooting at approx.5.8 fps (AFS) / approx.5 fps (AFC, 1-area AF) in 16.00-megapixel and max. 40 fps using an electronic shutter. 



4. Easy Wireless Connectivity via Wi-Fi® with Smartphones

The GF7 integrates Wi-Fi® connectivity (IEEE 802.11 b/g/n) to offer more flexible shooting experience and instant image sharing with easy operation. Once connected the camera and smartphone/tablet installing Panasonic's dedicated application software Panasonic Image App for iOS / Android, users can shoot / browse / share images remotely.



The GF7 newly integrates Jump Snap. By holding the smartphone in your hand or having it in the pocket, the smartphone detects the highest position when the user jumps and releases the shutter of the camera which is located away from the user in advance. It lets users to photograph themselves jumping as if they are flying in the air.



5. Full-HD 60p (60Hz) High Quality Video Recording Performance

The GF7 records stunningly smooth, high-resolution full-HD 1,920 x 1,080 60p (60 Hz) videos in AVCHD Progressive or MP4 (MPEG-4 / H.264) format. The DMC- GF7 also supports 1080/24p native mode with 24 Mbps in AVCHD format bringing impressive afterimage to the footage. The full-HD 1,920 x 1,080 60p (60 Hz video can also be recorded in AVCHD progressive / MP4 at 28 Mbps. Thanks to optimum pixel-mix technology which is made possible by the improvement of sensor sensitivity, sharpness and clarity are improved in video, too.



In addition to the practical full-time AF, the Touch AF in video recording also lets users enjoy professional-like rack focusing. The AF Tracking locks on the subject  even it moves.



High quality sound can be recorded with Dolby® Digital. A Wind Cut function is also available to block out most of the noise from background wind. The Extra Tele Conversion function virtually extends the zoom range Max. 4.8x without deterioration of image quality in smaller resolution.



The GF7 features a new video recording option called Snap Movie Mode. Users can record video in designated short periods of time (2/4/6/8 sec) as they shoot "moving photos". In this function, rack focusing or addition of fade effect (color in/out, black in/out, white in/out) are available. Those short video clips are can easily be shared using the Panasonic Image App.



About Panasonic Consumer Electronics Company

Based in Newark, NJ, Panasonic Consumer Electronics Company is a division of Panasonic Corporation of North America, the principal North American subsidiary of Panasonic Corporation. The company offers a wide range of consumer solutions in the U.S. including products from VIERA Life+ Screens, Blu-ray players, LUMIX Digital Cameras, Camcorders, Home Audio, Cordless Phones, Home Appliances, Beauty, Grooming, Wellness and Personal Care products and more. In Interbrand's 2014 annual "Best Global Green Brands" report, Panasonic ranked number five overall and the top electronics brand in the report. To learn more about our products, visit panasonic.com. Follow Panasonic on Twitter @panasonicUSA; additional company information for journalists is also available at www.panasonic.com/pressroom.



CONTACT:

Dan Unger (Media Relations)

201-392-4571 

dan.unger@us.panasonic.com 



Alyssa Hershfield (Cohn & Wolfe)

212-798-9527

alyssa.hershfield@cohnwolfe.com



Web Site: http://www.panasonic.com

More from Controls & Controllers