Dry Vacuum Pump facilitates LED/semiconductor manufacturing.
Press Release Summary: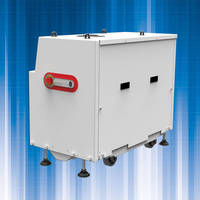 Suitable for use in harsh environments, corrosion-resistant iXH645H dry pump handles high flow of gases such as light hydrogen and ammonia. High-temperature capabilities prevent condensation of phosphorous compounds. Pump includes nitrogen purge barrier to protect seals, motor designed to prevent overheating or overloads, and oil lubrication and sealing to minimize maintenance. Integrated temperature control system allows full operation within 30 min of start-up.
---
Original Press Release:

Edwards Announces New Vacuum Pump for LED and Compound Semiconductor Manufacturing



New iXH645H dry vacuum pump requires minimal maintenance and maximizes uptime in harsh manufacturing environments

CRAWLEY, WEST SUSSEX, UK. - Edwards (NASDAQ: EVAC), a leading manufacturer of sophisticated vacuum products and abatement systems and a leading provider of related value-added services, today introduced the new iXH645H dry pump. The new pump has been optimized for MOCVD processes used in LED manufacturing, as well as for compound semiconductor manufacturing using III-V materials in gate stacks. Visit Edwards at booth 5351 in the North Hall during InterSolar and SEMICON/West, taking place July 10-12, 2012 in San Francisco, Calif., to learn more about the iXH Series.

The iXH645H delivers very high gas flow capability and is able to operate continuously at the high loads required for the latest-generation LED manufacturing tools. The advanced technology of the iXH pump minimizes maintenance requirements and maximizes pump uptimes, helping to lower cost-of-ownership.

"This new addition to our iXH family of dry pumps is designed to address the needs of two rapidly growing segments of high technology manufacturing," said Wei Shao, Edwards' LED market sector manager. "Due to their superior lighting efficiency, LEDs are increasingly being seen as an environmentally-friendly alternative to incandescent lighting, as shown by recent legislation passed in China, Korea, Japan and the U.K to phase out traditional high power lighting."

Shao adds, "At the same time, the use of III-V materials in compound semiconductor manufacturing is enabling the continuation of Moore's Law to next-generation design nodes."

Both LED and compound semiconductor manufacturing processes typically use high flows of light hydrogen and highly-corrosive ammonia gasses. The iXH645H has been optimized to support these requirements with superior hydrogen pumping performance and a corrosion-resistant design, including a patented nitrogen purge barrier to protect the pump seals. The high-temperature capabilities of the pump help prevent condensation of the phosphorous compounds which may be present. In addition, its advanced oil lubrication and seal technology eliminate periodic maintenance requirements, while its thermal and motor design prevent overheating, motor overloads or zones of limited operation. The pump's optimized temperature control system ensures the pump is ready for process within approximately 30 minutes of start-up.

For further information about Edwards products please visit www.edwardsvacuum.com.

About Edwards

Edwards is a leading manufacturer of sophisticated vacuum products and abatement systems and a leading provider of related value-added services for the manufacture of semiconductors, flat panel displays, LEDs and solar cells and a leader in vacuum technology for industrial, pharmaceutical, chemical, scientific, process, glass coating and food packaging industries as well as a wide range of R&D applications.
Edwards has over 3,300 full-time employees and over 600 temporary workers operating in approximately 30 countries worldwide engaged in the design, manufacture and support of high technology vacuum and exhaust management equipment.

Edwards' American Depositary Shares trade on The NASDAQ Global Select Market under the symbol EVAC. Further information about Edwards can be found at www.edwardsvacuum.com.

Company Contact:

Marie Tysall-Blay

+44 (0) 1293 603507

Marie.tysall-blay@edwardsvacuum.com

More from Fluid & Gas Flow Equipment