Dry Film Capacitors suit DC filtering applications.
Press Release Summary: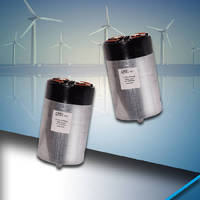 Rated for 1.5–3 kV with capacitance spanning 58–1,110 µF, FFLI Series Capacitors combine dry, metallized polypropylene film and no-free-oil solution in cylindrical aluminum case filled with self-extinguishing polyurethane resin. Composition equips series with self-healing technology, which prevents potential explosions resulting from avalanche effect, enables benign failure mode consisting exclusively of capacitance losses, and ensures safe performance over 100,000-hour lifetime.
---
Original Press Release:

AVX Releases FFLI Series Dry, High Voltage, Medium-Power Film Capacitors for DC Filtering Applications



Providing a unique, dry, no-free-oil alternative to oil-filled high-voltage power film capacitors, the FFLI Series delivers intrinsically safe, high-reliability, & long-lifetime performance in AC/DC power converters, renewable energy inverters, rolling stock, & oil drilling applications



FOUNTAIN INN, S.C. – AVX Corporation, a leading manufacturer of passive components and interconnect solutions, has released a new, high-voltage series of dry, medium-power film capacitors especially designed for DC filtering applications, such as the DC filtering of high frequency ripple currents and decoupling DC links in AC/AC and DC/AC motor drive inverters. Rated for 1.5kV to 3kV, the new FFLI Series capacitors are comprised of a unique combination of dry, metallized polypropylene film and a no-free-oil solution sealed in a cylindrical aluminum case filled with self-extinguishing polyurethane resin. This composition equips the FFLI Series with controlled self-healing technology, which prevents potential explosions resulting from avalanche effect, enables a benign failure mode consisting exclusively of capacitance losses, and ensures safe, reliable performance over lifetimes of up to 100,000 hours. Available in a wide range of voltage and capacitance values, FFLI Series capacitors also exhibit low DCL, ESR, and ESL, high current handing capabilities, and excellent high-frequency performance and capacitance retention with frequency, making them ideal for use in AC/DC power converters, renewable energy inverters, rolling stock, and oil drilling applications.



"Thanks to its unique, dry composition and controlled self-healing capabilities, which prevent both avalanche effect and the subsequent potential for explosions typically associated with oil-filled high-voltage power film capacitors, the FFLI Series provides design engineers with a wide variety of exceedingly safe and reliable solutions for a broad range of DC filtering applications, and especially those that prohibit the use of oil-impregnated capacitors, including solar, wind, and hydro inverters," said John Gallipeau, power film technical marketing manager at AVX.



Rated for lifetimes of up to 100,000 hours at rated voltage, 70°C hot spot temperature, and ΔC/C <2%, standard FFLI Series designs are currently available in seven voltage ratings — 1.5kV, 1.75kV, 2kV, 2.25kV, 2.5kV, 2.75kV, and 3kV — and with capacitance values spanning 58µF to 1,110µF ±10% tolerance. However, custom sizes, shapes, and performance specifications are both possible and welcome. The series' cylindrical aluminum cases span 85mm to 116mm (3.35" to 4.57") in diameter and 155mm to 340mm (6.10" to 13.39") in height, and feature a self-extinguishing plastic cover, an M12 x 16 bolt to fix the capacitor in place, and either M6/10 female connections or M8/20 male connections. Designed to withstand operating temperatures ranging from -40°C to +85°C, the RoHS-compliant series is also qualified to the following standards: IEC 61071, IEC 61881, IEC 60068-2, IEC 61373, and UL 94. Lead-time for the series is 13 – 16 weeks, and pricing is available upon request.



For more information about AVX's new FFLI Series dry, high voltage, medium power film capacitors for DC filtering applications, please visit http://www.avx.com/products/film-capacitors/medium-power-film-caps/ffli-hv/ to access the product datasheet, AVX's Medium Power Film Capacitors catalog, the AVX Product Guide for Medium and High Power Film Capacitors, application notes, a custom capacitor worksheet for non-standard requests, and relevant technical papers. For pricing and purchasing information, please contact John Gallipeau, power film technical marketing manager, AVX, at john.gallipeau@avx.com or 864-967-9311.  For all other inquiries, please visit www.avx.com, call 864-967-2150, or write to One AVX Boulevard, Fountain Inn, S.C. 29644.



About AVX

AVX Corporation is a leading international supplier of electronic passive components and interconnect solutions with 20 manufacturing and warehouse facilities in 11 countries around the world. AVX offers a broad range of devices including capacitors, resistors, filters, timing and circuit protection devices and connectors. The company is publicly traded on the New York Stock Exchange (NYSE:AVX).



For more information, contact:

John Gallipeau

Power Film Technical Marketing Manager, AVX

864-967-9311

John.Gallipeau@avx.com

More from Adhesives & Sealants