Dry Block Heater features dual temperature control.
Press Release Summary: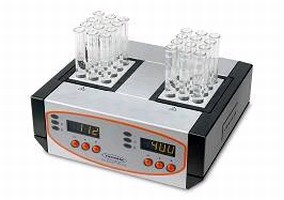 Operating over temperature range of ambient to 100°C, Dri-Block® DB-2TC accommodates 2 aluminum insert blocks with independent digital temperature controls, making it suited for multiple users or for applications where samples have to be transferred between 2 temperatures quickly. Unit has heat-up rate of 30-100°C in 19 minutes with temperature stability of ±0.1°C. Compact design allows heater to be placed in fume cabinets where corrosive/toxic chemicals are used.
---
Original Press Release:

Introducing DB-2TC Twin Control from Techne Inc.



Dual Temperature Control Dry Block Heater

o Ideal for multiple users or applications
o Two blocks with independent temperature controls
o Can hold up to 2 aluminum insert blocks
o 4-digit setting with bright orange LED digital displays for fast & accurate setting of temperature
o Powerful heater for fast heat-up rate: 30°C to 100°C in just 19 minutes
o Temperature range from ambient to 100°C
o Temperature stability at 40°C: ±0.1°C

A new Dri-Block® heater with an innovative design accommodating two blocks with independent digital temperature controls. Each block can be set at different temperatures - ideal for multiple users or for applications where samples have to be transferred between two temperatures very quickly. The compact, robust design also allows the unit to be placed in fume cabinets where corrosive/toxic chemicals are used.

Operating over the temperature range of ambient to 100°C the unit has an impressive heat up rate and highly accurate thermal control with temperature stability of ±0.1°C.

For Further Information, Contact: Amina Shareef, Product Support Specialist - Techne aminas@techneusa.com Tel:609-589-2560 Fax:609-589-2571
Regards,

Christine Leskovar
Customer Marketing Manager
Barloworld Scientific USA
Tel 585.334.2060 x112
Fax 585.334.0241
christine@dyna-labware.com
www.dynalabcorp.com

Related