Drum Motor meets demands of corrosive applications.
Press Release Summary: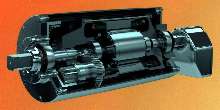 Suitable for medium- and heavy-duty applications, conveyor motor features rugged construction for bulk handling applications. Hermetically sealed, it is protected from water, dirt, dust, grit, and chemicals. Motor features internal AGMA 12 rated high alloy steel gears with inverter that runs at 96% efficiency. Available in diameters from 3.9-19.69 in., and face widths from 10-63 in., drive motors are rated from 0.11-40 hp with belt speeds from 23-1369 fpm.
---
Original Press Release:

Heavy-Duty Conveyor Belt Drum Motor Drives for Corrosive Environments Available from Van Der Graaf


A complete line of drum motors, specifically designed for driving conveyor belts in medium- and heavy-duty applications, is available from Van der Graaf Inc. The drum motor line features rugged construction employing precision sub-components that ensure long life and reliable service in a variety of extreme bulk handling applications, such as: mining and aggregates, construction and demolition, chemical and fertilizer processing, feed and grain handling, metals processing and rock and cement production, among others.

Van der Graaf manufactures a broad range of drum motor units for all types of material handling. Some specially designed units have been created to meet the unique demands of corrosive applications, i.e. when caustic materials are conveyed. The units feature cast iron pulley shells, end caps and terminal boxes that will survive in harsh environments. The lightweight pulleys are ideally suited for portable conveyor systems used in contract mining and quarry operations, road construction, demolition projects, etc., and can withstand high-pressure and chemical washdown.

Drum Motor Details

The Van der Graaf drum motor is totally self-enclosed, the electric motor and the gear drive are enclosed within the outer shell of the conveyor drum motor. The motor rotates two-stage gearing that transmits power to the outer shell through a final gear ring that is fixed to the rotating shell. The parabolic (machine-crowned) outer shell tracks on all points of contact to maximize belt traction, ensuring even belt wear and extending belt life. Mounted with just two (2) brackets, there is no need for multiple parts -- and multiple vendors. Ordering and installation are quick and easy requiring less than half the time needed to install external drives. The drum motor requires no external component maintenance.

Drum motors in the Van der Graaf family feature internal AGMA 12 rated gears, made of high alloy steel with precision cut and honed teeth -- reducing noise levels to meet OSHA
requirements. Efficient and reliable, the inverter duty motors run at 96 percent efficiency, saving up to 30 percent on power consumption when compared to exposed drves and are available in all standard voltages.

The hermetically sealed drum motor is protected from water, dirt, dust, grit, chemicals and other potential contaminants. The motor's compact design eliminates all external parts, such as: motors, gearboxes, chains or belts, pillow block bearings and associated guards. Virtually maintenance-free, the units only require an oil change after 50,000 hours of operation and the oil change can be performed without removing the drum motor from the conveyor.

The drum motor is available in a wide range of sizes, standard ratings and speeds: diameters from 3.9 to 19.69 inches, and face widths from 10 to 63 inches. Non-standard widths are also available. Drive motors are rated from 0.11 hp to 40 hp. Belt speeds range from 23 to 1369 feet per minute.

For more information on heavy-duty drum motors contact, Van der Graaf Inc., 2 Van der Graaf Court, Brampton, Ontario L6T 5R6 Canada, toll-free phone 888-326-1476, fax 888-326-0089, www.vandergraaf.com.

More from Electronic Components & Devices