Cleaning Compounds and Chemicals
Drum Cleaner helps reduce downtime for flexographic printing.
Press Release Summary: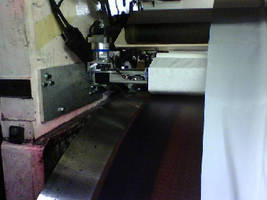 Engineered to be automatic roll cleaning system, CI Drum Cleaner is designed for companies printing wide web packaging material and manufacturers of central impression (CI) printing presses. It performs thorough wiping of drum to remove ink, dirt, and slip from its surface. Able to retrofit to most manufacturers' CI printing presses, solution allows for full 24 hr of printing without needing to stop press for manual drum cleaning.
---
Original Press Release:

R.G. Egan Equipment Launches New Product for the Flexographic Printing Industry



WEBSTER, NEW YORK, July 1st, 2009// - Today R.G. Egan Equipment, the leading manufacturer of automatic roll cleaning systems, launched the CI Drum Cleaner for company's printing wide web packaging material and for the manufacturers of central impression printing presses. As the original developer of this patented, compact design, R.G. Egan Equipment is proud to point out that the CI Drum Cleaner offers the most effective solution of its type. This patented design allows for a thorough wiping of the drum with maximum effectiveness to remove ink, dirt and 'slip' from the surface of the drum. This product easily retrofits to most manufacturers of CI Printing Presses and allows for a full 24 hours of printing without needing to stop the press for manual drum cleaning. The ability to now achieve greatly reduced down time and increased cost savings make this new product the leader of the industry.

Manufacturers of food and household products around the world all use the same, popular technique for printing their wide web packaging material. During this process, their machines print anywhere from four to ten colours at one time. Most printing presses for this type of material use a large central impression drum with color stations located around the drum. As the packaging material travels around the drum the colors are transferred from a flexographic plate to the packaging film. Those seeking a competitive edge are looking to R. G. Egan Equipment's machine for its ability to effectively wipe clean the surface of the central impression drum while the press is printing which greatly reduces the need for press downtime, providing a significant and rapid return on investment.

"We're proud to be the first manufacturer to design, build and sell this type of machine. Our customers want and need efficiencies - now more than ever. It's definitely efficient - and safe - to have the option of cleaning the central impression drum while the press is in production printing. Our customers don't have to go through the lengthy process of stopping printing and then relying on the operator to do the dirty job of cleaning the central impression drum by hand with rags and cleaning solvents. In addition to needing fewer cleaning solutions, the working environment is now a great deal safer for everyone, particularly the operators," explains R.G. Egan Equipment's Sales Manager, Greg Egan.

About R.G. Egan Equipment

R.G. Egan Equipment is a leading manufacturer of high efficiency contact web cleaning systems and automated process roll wiping systems used on production machinery throughout the converting industry. Their designs incorporate the latest in control technology with the precision and reliability of CNC manufacturing, then assembled and tested by skilled, U.S. craftsmen before it's shipped to a customer's facility. Regardless of the type of process utilized, when contamination is an issue, a system from R.G. Egan Equipment will improve the bottom line of high performing companies. R.G. Egan Equipment's designs are proven in some of the toughest converting environments around including coating, printing, slitting, casting, laminating and calendaring processes.

R.G. Egan Contact: Email Greg Egan at sales@rgegan.com or call him at 585.671.0465

Visit the company website: www.rgegan.com

More from Electronic Components & Devices