Driver Software supports laser control boards.
Press Release Summary: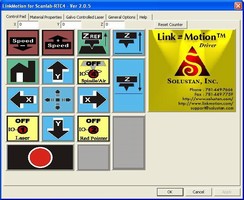 Compatible with Microsoft Windows XP and 2000 using printer driver technology, 32-bit LinkMotion works with RTC series galvo and laser control boards of Scanlab AG. Program includes expandable materials menu, positioning of job with help of red indicator diode, keyboard controls for axis moves, and acceleration/deceleration setup. Allowing user to process job in vector or raster mode, driver works with clip arts, logos, AutoCAD, and graphics programs such as Corel Draw.
---
Original Press Release:

Solustan, Inc. Announces LinkMotion Driver Software for Scanlab Galvo and Laser Control Boards



Date: December, 2007
Needham, MA

LinkMotion is a 32 bit driver software compatible with Microsoft Windows XP and 2000 operating systems using printer driver technology. It is now available to work with RTC series of galvo and laser control boards of Scanlab AG of Germany (www.scanlab.de). The Scanlab products are proven, reliable and are well known for laser marking applications throughout the world.

LinkMotion works with many popular graphic and CAD applications Like Corel Draw, AutoCAD, DolphinCAD, Rhino, Adobe Illustrator, and many others. Use one of the popular applications instead of a customized application.

Solustan's LinkMotion eliminates the need for customized application development for many of the motion control applications.

Here's a list of just a few of the benefits you'll enjoy with LinkMotion.
1. Build and offer your system solutions immediately.
2. Reduce or eliminate your investment in software development.
3. Reduce your support costs.
4. LinkMotion works with clip arts, logos, AutoCAD, and graphics programs like Corel Draw! for marking with the greatest of ease.
5. Preset but expandable materials menu, positioning of a job with the help of a red, indicator diode, keyboard controls for axis moves, acceleration/deceleration setup and controls are provided.
6. You can process the job in vector mode or raster mode. This makes the solution very versatile for the user.

Attached is a screen shot of the LinkMotion driver applet showing settings for the RTC-4 boards.

The following Scanlab boards are supported by LinkMotion:
RTC3
RTC4
RTC Scanalone

Popular graphic design programs and CAD programs are maturing with plethora of features, reasonable pricing, international language support, yearly updates with new features, and a vast third party training and education support. It is ideal for specialized laser system users. Solustan's LinkMotion is simply a convenient vehicle to take the jobs designed in one of these programs and directly send them to the laser machines for processing.

About Solustan, Inc.
Solustan inc. was founded in 1985, and is the leading developer of motion control solutions. We are committed to delivering the most advanced solutions to our customers, and are recognized pioneers in our field. We have an evolving line of products that combines technical sophistication with high levels of usability, resulting in feature-rich products that anyone can take advantage of.

For additional information, demonstration of the software, pricing, and availability, Please, contact;
Dhiren Shah, Dir., Operations
Solustan, Inc. 165 Chestnut St., Needham, MA 02492
PH: 781-449-7666 FAX: 781-449-7759
E-Mail: dshah@solustan.com
www.Solustan.com
www.LinkMotion.com