Driver Board provides electro-hydraulic valve control.
Press Release Summary: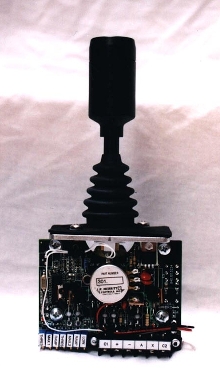 Microprocessor-based MPFC/CR programmable driver board accepts 4-20mA or 5 V input signal. PWM outputs are current regulated and can be configured for bi-directional control of single and dual coil valves. Flow control is available with 1 analog and 3 solid state auxiliary outputs. Board features LED diagnostics, ramp to or through center, neutral off switch, broken command signal detection, reverse polarity and short circuit protection.
---
Original Press Release:
Type MPFC / CR Microprocessor Based Valve Driver Board for EHPV

J.R. Merritt Controls introduces a new microprocessor based valve driver board for electro-hydraulic proportional valve control. The MPFC/CR programmable driver board accepts a 4-20mA or a 5 volt input signal.

The PWM outputs are current regulated and can be configured for bi-directional control of single and dual coil valves. Flow control is available with one analog and three solid state auxiliary outputs. Volume control is available for foot pedal and rotary operated speed control applications.

Standard features include: LED diagnostics, Ramp to or through center, neutral off switch, broken command signal detection, reverse polarity and short circuit protection. Optional features include: independent adjustment of output parameters, adjustable Hi-Lo range mode select and timed deadman enable circuit.

The compact 3x4" board is compatible with J.R. Merritt's full range of Joysticks, Foot Pedals, Rotary Cam Switches, and Custom Grips.

For condensed literature, technical information or a complete catalog, contact us at:

J.R. Merritt Controls, Inc.

Jennifer Atkins

55 Sperry Avenue

Stratford, CT 06615

(203) 381-0100

(800) 333-JRMC (5762)

Fax: (203) 381-0400

Email: [email protected]