Drive Control Module is designed for HTBL RollerDrives.
Press Release Summary: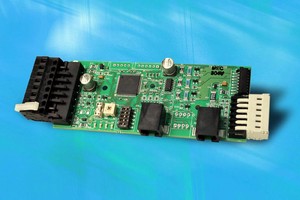 HTBL (High Torque Brushless) ZPA (Zero Pressure Accumulation) DriveControl module suits HTBL RollerDrive conveying in any postal, distribution center, or manufacturing application. Module installs without external control PLC, but also allows use of external PLC for integration into existing control scheme. It interfaces with PNP and NPN style photo eyes, and offers diagnostic capability with indicators that identify system-specific faults without PLC monitoring.
---
Original Press Release:

Interroll Offers ZPA DriveControl Modules for High Torque Brushless RollerDrives



Zero Pressure Accumulation (ZPA) DriveControl ensures safety, reduces costs for consecutive zone applications...

Wilmington, N.C. (March 27, 2006) - Assuring added control for consecutive single-zone accumulation applications, Interroll's new HTBL (High Torque Brushless) ZPA (Zero Pressure Accumulation) DriveControl module provides self contained zero pressure accumulation control in a plug-and play configuration for ease in installation and operation. The HTBL ZPA DriveControl module is ideally suited for HTBL RollerDrive conveying in any postal, distribution center or manufacturing application.

"HTBL ZPA DriveControl for our HTBL RollerDrives allows our customers to implement intelligent conveying systems that further enhance the advantages of the HTBL versus traditional tangential belt, line shaft, chain and sprocket drive systems," said Ken Bobick, Global Product Manager for Interroll RollerDrives. "In addition to more obvious safety considerations with automatic delay if the next zone is occupied, the HTBL provides significant energy savings capabilities - and, therefore, cost savings capabilities - over line shaft and tangential belt applications."

With the conveyor running only when needed, it becomes even more cost effective with the HTBL ZPA DriveControl on a per zone basis versus both existing mechanical methods and other competitive motorized driven roller solutions. The HTBL ZPA DriveControl module is easy to install with no external control of programmable logic control (PLC) required. However, it does allow the use of an external controller or PLC to enable integration into any existing control scheme. It interfaces with both PNP and NPN style photo eyes.

Backward compatible with the popular Interroll Intelliveyor accumulation control system, the HTBL ZPA DriveControl interfaces readily with Interroll's new 'Z' card to complete all variations of accumulation applications. It also provides enhanced diagnostic capability with indicators that allow identification of system-specific faults without PLC monitoring.

Interroll's HTBL RollerDrive addresses customers' needs for more power and cost-efficiency. Designed as an economical and safe alternative to traditional tangential belt, line shaft, chain and sprocket drive systems, the 24 VDC motorized driven roller meets the demand for moving heavier loads with improved control capabilities. The RollerDrive HTBL provides up to a 70 percent increase in torque at costs comparable to less capable motorized driven rollers.

For more information about Interroll's innovative HTBL RollerDrive and DriveControl conveyor components, call 1-800-830-9680, or fax 800-830-9679 or visit www.interroll.us.

About Interroll

Products developed by Interroll are deployed on a global scale - wherever goods have to be conveyed, stored or distributed. Committed to excellence, Interroll offers cutting-edge solutions spanning the entire value chain, for a diverse range of industries.

Interroll endeavors to establish a leading position in selected product segments for internal unit load handling - worldwide. Established in 1959 and listed on the Swiss Stock Exchange SWX, the Interroll Group currently employs 1100 people at around 25 enterprises worldwide. Directed by a strategic holding company located in Sant'Antonino, Switzerland, the Group operates with three global business units. Within the components segment, "Interroll Drives & Rollers" focuses on supplying regional engineering companies and original equipment manufacturers. Within the area of modules and subsystems, "Interroll Dynamic Storage" and "Interroll Automation" have tailored their product portfolios to meet the requirements of global systems integrators, multinational corporations and end-users. Interroll develops all-embracing solutions in the field of food processing and distribution, airport technology, mail and parcel distribution, third-party logistics, automotive suppliers and pharmaceuticals.

Ken Bobick
Global Product Manager
Interroll RollerDrives
910-202-2304
k.bobick@interroll.com