Power Transmission and Timing Belts
Drive Belt provides extended wear.
Press Release Summary: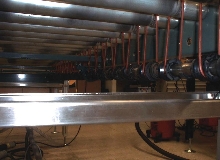 Drive belt cuts required belt changes in half and is used on line-shaft roller conveyors made by Hytrol, Ermanco, Bushman, Rapistan, and Matthews. It is constructed from 45D Shore Hardness, polyester-based polyurethane with internal lubricant package.
---
Original Press Release:
Shuttleworth Introduces a New Urethane Extended-Wear Line Shaft Drive Belt That Cuts Required Belt Changes In Half

Huntington, IN - Shuttleworth, Inc., introduces a new line shaft extended-wear urethane drive belt that cuts required belt changes in half. Field and lab tests show that the new drive belts deliver up to twice the lifespan of competitive belts. The new drive belts are designed for use on line-shaft roller conveyors made by such companies as Hytrol, Ermanco, Buschman, Rapistan and Matthews.

Constructed from a 45D Shore Hardness, polyester-based, polyurethane with a unique internal lubricant package and a proprietary finishing process, the belts deliver excellent tensile strength and durability. In breaking force comparison tests, it took about 312 lb. (142kg) of breaking force to break a Shuttleworth drive belt. Competitor's belts broke at 245 lb. (111 kg) and 228 (104kg). In accelerated wear comparison tests, after 53 days of use Shuttleworth drive belts showed only 5.2% of wear while competitor's belts showed 36.3% and 43.9% of wear after 53 days of use.

The extended wear drive belts reduce maintenance and replacement costs. They are fully manufactured and processed in-house by Shuttleworth and are backed with a 3 year, up to 3 shifts or 18,000 hours, normal warehouse conditions, wear life and resistance guarantee.

Shuttleworth has over 30 years of drive belt experience and produces millions of belts per year.

For more information on the new extended wear drive belts, contact Shuttleworth, Inc., 10 Commercial Road, Huntington, IN 46750-9044. Telephone 260-356-8500. FAX 260-359-7810. E-mail: inc@shuttleworth.com. Website: www.shuttleworth.com.
More from HVAC