Drill Rod Grease features biobased formula.
Press Release Summary: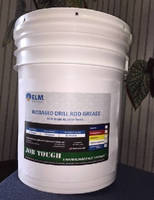 Designed to meet demanding requirements of drilling and mining industry, Biobased Drill Rod Grease offers optimized water washout properties and is almost entirely made of renewable biobased materials with no heavy metals. Product has environmentally safe additives to increase mass density, and is effective in and around high water-flow with balance of adhesiveness and cohesiveness. Using microwave-based manufacturing process, biobased grease meets/exceeds performance of conventional greases.
---
Original Press Release:

ELM Announces New Biobased Drill Rod Grease



Grundy Center, Iowa – Iowa based Environmental Lubricants Manufacturing, Inc. (ELM) announced that it has commercialized a new and improved Biobased Drill Rod Grease that meets the demanding environmental requirements of the drilling and mining industry. The grease has improved water washout properties and "is almost entirely made of renewable biobased materials with no heavy metals" according to Saeed Soleimani, ELM Production Manager.



Stricter environmental regulations in mining applications has created a demand for biobased and non-bioaccumulative grease and lubricant products. Dr. Lou Honary, ELM President indicated that "this product is a modification of our existing technology, but came about due to the increased inquiry from users that are seeking biodegradable products".



According to Honary, "ELM's biobased drill rod greases are Aluminum Complex for improved water washout properties. The grease has environmentally safe additives to increase its mass density, and it is particularly effective in and around high water-flow with a balance of adhesiveness and cohesiveness".  Using a "microwave based grease manufacturing process, this biobased grease meets or exceeds performance of conventional greases, while being in near price parity with them".



ELM is a biobased technology leader and manufacturer, marketing only through private label and distributors. The company mission is to private label products or sell through companies that already have distribution chanels sin place, thus able to expand the market for biobased lubricants. ELM is a privately owned, Inc. 500 company formed in 2000 to commercialize biobased lubricants developed at the University of Northern Iowa' National Agriculture-Based Lubricants Center.



Company Information:

DISTRIBTOR PACKET, PRIVATE LABEL, OR OTHER INFORMATION, CONTACT:

Lou Honary: 1-319-824-5203, lou.honary@elmusa.com









More from Machinery & Machining Tools