Dril-Quip Wins Two Spotlight On New Technology Awards For Wellhead System And Connector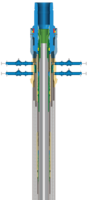 HOUSTON, May 2, 2017 - Dril-Quip, Inc. (NYSE: DRQ) was presented with two Spotlight on New Technology Awards at the 2017 Offshore Technology Conference (OTC) in Houston on May 1, 2017 for its BigBore-IIe™ Wellhead System and its DXe™ Wellhead Connector. The Spotlight on New Technology Awards showcase new and advanced technologies that are leading the industry into the future.
The BigBore-IIe Wellhead System includes an integral 2 million pound high-capacity casing hanger lockdown, superior fatigue resistance and high-capacity running tools. The BigBore-IIe provides significant drilling cost savings by reducing the number of trips into the well, eliminating the need for drilling/production lockdown equipment and reducing the number of casing strings through an optimized well design.
The DXe Wellhead Connector is suitable for blowout preventer, tree and riser tie-back connections in high pressure, high temperature (HPHT) and severe cyclic load environments. It has a highly engineered locking profile and gasket design that provide high structural capacity and superior fatigue resistance resulting in longer service life. The BigBore-IIe and the DXe have been validated and tested beyond the latest industry requirements.
Blake DeBerry, Dril-Quip's President and Chief Executive Officer, remarked, "We are very pleased to receive two Spotlight on New Technology Awards from OTC. The BigBore-IIe Wellhead System can help operators substantially decrease their costs by reducing the number of trips into the well bore. For a deepwater well, it can eliminate at least five trips into the well.
"Our DXe Connector has no bolts in the load path which should eliminate any concerns regarding potential bolt failure that the industry has experienced in recent years. We believe the fatigue resistance of our DXe Connector will outperform other wellhead connectors currently available in the industry. Together, the BigBore-IIe Wellhead System and the DXe Connector can provide structural changes in well operations that allow our customers to cut costs by reducing equipment and rig time."
About Dril-Quip
Dril-Quip is a leading manufacturer of highly engineered drilling and production equipment for use onshore and offshore, but which is particularly well suited for use in deepwater, harsh environment and severe service applications.
SOURCE Dril-Quip, Inc.
Web Site: http://www.dril-quip.com
More from Non-Industrial Products