Drain-Pan Pump has footprint smaller than a dollar bill.
Press Release Summary: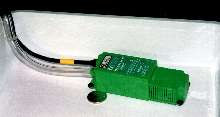 Suited for drain or condensate pans, pump contains electronic water sensing devices that activate only in presence of water. It sits on rubber feet to isolate sound and vibration from pump operation, and pumps up to 76 gal/day of defrost water. Water entry into pump is from sensor cell, which is protected from contamination by surface-area grill. Grill protects against infiltration of particles as small as .040 in.
---
Original Press Release:
Drain Pan Pump; The Green Solution
This new and innovative product is just what it sounds like. Simply install this compact pump, with a foot print smaller than a dollar bill, in the drain pan for the refrigerator cabinet or condensate pan for an air conditioning system. Connect the line voltage and discharge tube and let the Drain Pan Pump do its work. This mighty little pump contains proven electronic water sensing devices that activate the pump only in the presence of water. There is no float to stick or fowl. The pump sits on rubber feet to isolate what little sound or vibration comes from the pump. We call this pump the "Green Solution" as it can replace the expensive to operate evaporative drain pan heaters in refrigeration cabinets to pump away up to 76 gallons per day of defrost water with major savings. Water entry into the pump is from the sensor cell, which is protected from contamination by a large surface-area grill to protect infiltration of particles as small as .040". EDC International, Inc
273 Canal Street
Shelton, CT 06484
1-800-394-2739
Visit us at Booth 6523 the AHR in January
Related