Drag Conveyor provides uniform load distribution.
Press Release Summary: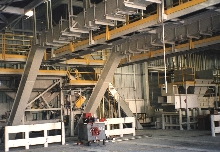 Vari-Slot permits even distribution of bulk materials into varying length trailers and containers without use of moving parts such as slide gates or chutes. Conveyors are fitted with adjustable articulating bottom plates which provide means for filling trucks, hoppers, or containers of different lengths. If container size changes, conveyor can be reconfigured for new requirements.
---
Original Press Release:
'Vari-Slot' Distributing Drag Conveyor

NATIONAL CONVEYORS COMPANY, INC. introduces its patented 'Vari-Slot' drag conveyor. This product permits the even distribution of bulk materials into varying length trailers and containers without the use of moving parts such as slide gates or chutes. Units are now in operation at General Motors Corp., DaimlerChrysler Corp., Caterpillar Inc., The Gillette Co., and other manufacturer's facilities for the loading of metal chips into roll off style containers, over the road trailers
and rail cars.

'Vari-Slot' drag conveyors are fitted with adjustable articulating bottom plates which provide a means for filling
trucks, hoppers or containers of different lengths with a
material distribution (front to back) that maximizes the load to
suit a scrap hauler's requirements. If the container size changes
the conveyor can be quickly and easily reconfigured for the
new requirements.

The addition of the 'Vari-Slot' drag conveyor enhances
National's extensive product line of material handling systems
and equipment serving the metal working industry which
ranges from "Time Saver" batch chip wringers, and stand
alone pre-engineered chip processing systems, to custom
designed high capacity systems and grinding/honing swarf
dewatering extruders.

For additional information contact:
NATIONAL CONVEYORS COMPANY
excellence in engineering since 1933
33 Nicholson Road
East Granby, CT 06026
Phone: 860-653-0374
Fax: 860-653-2965
E-mail: info@nationalconveyors.com
Website: www.nationalconveyors.com