DPR Construction Designs Environmentally Responsible Workspace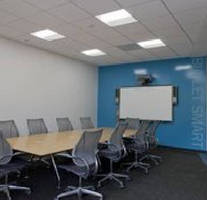 Responsible Workspace Using Acuity Brands Lighting and Controls Solutions

DPR Construction installs highly controllable smart and simple lighting solutions to help meet requirements for LEED Gold certification.

ATLANTA - DPR Construction, one of the largest general contracting and construction firms in the U.S, renovated 100 percent of its new occupied office space in Newport Beach, Calf. with LED lighting and digital lighting controls solutions from Acuity Brands, Inc. (NYSE: AYI). DPR Construction's goals for the renovation were to reduce energy consumption, visually enhance its open and collaborative workspace and meet the criteria to become LEED® Gold certified.

DPR Construction specified multiple lighting and controls products from Acuity Brands®. These products included Lithonia Lighting® VT Series LED luminaires with integrated nLight® technology from Acuity Brands, which use nLight® enabled lighting controls from Sensor Switch®. These fixtures with integrated controls were installed above workstations in its open office spaces. Mark Architectural Lighting(TM) Slot fixtures were installed in its "innovation" room, to bring architectural appeal to a unique, non-traditional space. Additionally, EVO® A Series LED downlights from Gotham® were installed throughout hallways, bathrooms, labs and showers. Occupancy sensors from Sensor Switch were also installed in all areas to help meet California Title 24 building energy efficiency standards.

As a way to further enhance the energy savings provided by the LED luminaires, DPR Construction specified the nLight Virtual WallPod(TM) application from Sensor Switch, which allows employees to use their iPhone® or iPad® mobile device or desktop computer to individually control their personal workspace lighting. "Our employees have different needs - one may be looking at drawings, while the other is working on a computer - so we wanted to make workstations functional and flexible for whatever task they may be completing," said Jason King of DPR Construction. "Through the nLight Virtual WallPod application, every end user has dimming capabilities at his or her desk through an iPhone or the task bar of a computer."

"As one of the country's leading general contractors, with a focus on sustainable projects, DPR Construction needed a workspace that shows that they practice what they preach," said Dave Ranieri, Acuity Brands Lighting Vice President and General Manager, Indoor Lighting. "The integration of high performance LED lighting with a robust digital controls platform gives DPR Construction a smart and simple way to reach their energy saving goals, while putting their core values of doing what is right for employees, customers and the industry into practice as a company."

For more information about lighting and controls solutions from the Acuity Brands portfolio, please visit www.AcuityBrands.com.

About Acuity Brands

Acuity Brands, Inc. is a North American market leader and one of the world's leading providers of lighting solutions for both indoor and outdoor applications. With fiscal year 2011 net sales of $1.8 billion, Acuity Brands employs approximately 6,000 associates and is headquartered in Atlanta, Georgia with operations throughout North America, and in Europe and Asia. The company's lighting solutions are sold under various brands, including Lithonia Lighting®, Holophane®, Peerless®, Gotham®, Mark Architectural Lighting(TM), Winona® Lighting, Healthcare Lighting®, Hydrel®, American Electric Lighting®, Carandini®, Antique Street Lamps(TM), Tersen®, Sunoptics®, Sensor Switch®, Lighting Control & Design(TM), Synergy® Lighting Controls, Pathway Connectivity(TM), Dark to Light®, ROAM®, RELOC® Wiring Solutions, and Acculamp®.

About DPR Construction

DPR Construction is a forward-thinking national general contractor and construction manager specializing in technically complex and sustainable projects for the advanced technology/mission critical, life sciences, healthcare, higher education and corporate office markets. Founded in 1990, DPR is a privately held, employee-owned company that has grown to a multi-billion-dollar organization with 17 offices around the country, making it one of the largest general contractors in the nation and a great story of entrepreneurial success. It is currently ranked No. 13 on FORTUNE's "100 Best Companies to Work For" list and was recently identified as Largest Private Company in Silicon Valley Silicon Valley/San Jose Business Journal's list of the 51 largest private companies in Silicon Valley.

For more information, visit www.dpr.com

All trademarks referenced are the property of their respective owners.


More from Architectural & Civil Engineering Products