DP Technology Unveils ESPRIT 2011 CAM Software at IMTS 2010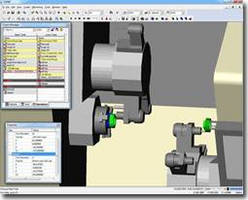 ESPRIT® 2011, the latest release of computer-aided manufacturing (CAM) software from industry leader DP Technology, will be unveiled at the International Manufacturing Technology Show, or IMTS, 2010, slated for Sept. 13-18 in Chicago, Ill.

As the 28th edition of North America's premier show for manufacturing technology, IMTS 2010 is expected to attract more than 92,000 buyers and sellers from over 116 countries, and offers exhibits from 1,100 companies in Chicago's McCormick Place.

Manufacturing industry professionals the world over attend the biennial show to catch the latest in new machine tools, controls, computers, software, components, systems and processes that increase efficiency.

ESPRIT will be shown at booth E-3910, where attendees will see large-screen presentations, as well as group and one-on-one presentations of the new product and specialized individual training. This year, as part of IMTS ESPRIT Customer Appreciation Days, visitors interested in individual training will be given the option of choosing from several topics - including ESPRIT overview, milling, mill-turn, turning, wire EDM, or a special topic of choice. Those who sign up for training will meet engineers at the ESPRIT booth, in a semi-private meeting room away from the distractions of the show floor.

Featuring system-wide upgrades that are of benefit to all programmers, ESPRIT 2011 includes new, innovative, productivity-enhancing technology for CNC programmers of mills, lathes and wire EDM machines.

More from Computer Hardware & Peripherals