DP Sensor Evaluation Kit connects directly to computer.
Press Release Summary: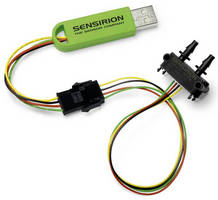 Offered as USB stick that connects to SDP610 sensor via adapter cable, EK-P3 enables testing of digital differential pressure (DP) sensors of SDP600 series. With available online software, DP sensor can be tested under realistic conditions by following 5 installation steps. Included software allows display of measured values on screen and also enables export of data to Excel spreadsheet.
---
Original Press Release:

New Evaluation Kit for Sensirion's Differential Pressure Sensors



EK-P3, the new evaluation kit from Sensirion, represents a straightforward and costeffective option for testing the digital differential pressure sensors of the SDP600 series.

The set consists of a USB stick that is connected to the SDP610 sensor by an adapter cable. With the help of the software, which is available online for download, the differential pressure sensor can be tested under realistic conditions by following five simple installation steps. Consequently, there is no need to program a microprocessor as the evaluation kit maybe connected directly to a PC. The included software allows displaying measured values on the screen and additionally provides the option of exporting the data to an Excel spreadsheet. This enables the data to be saved and processed in a simple manner.

The differential pressure sensors of the SDP600 family, which has recorded millions of sales, have a digital (I2C) output signal, are extremely long term stable and impress with their excellent accuracy and sensitivity, even at very low differential pressure values. The high performance is reached due to the thermal flow through principle. Thanks to the new EK-P3, the customer can learn more about the differential pressure sensor, become convinced of the benefits it provides and experience these clear advantages in a highly time efficient and economical manner.

EK-P3 webseite: www.sensirion.com/ekp3
EK-P3 Datasheet: www.sensirion.com/datasheet_ekp3
SDP600 Series webseite: www.sensirion.com/sdp6x0

About Sensirion
The Swiss sensor manufacturer Sensirion AG is a leading international supplier of CMOS-based sensor components and systems. Its range of high-quality products includes humidity and temperature sensors, mass flow meters and controllers, gas and liquid flow sensors, and differential pressure sensors. Sensirion supports its international OEM customers with tailormade sensor system solutions for a wide variety of applications. Among others, they include analytical instruments, consumer goods, and applications in the medical technology, automotive and HVAC sectors. Sensirion products are distinguished by their use of patented CMOSens® technology. This enables customers to benefit from intelligent system integration, including calibration and digital interfaces. Sensirion's competence as a reliable OEM partner is underlined by its quality management system, which was certified in March 2008 in accordance with the ISO/TS 16949 standard.

Contact: www.sensirion.com, info@sensirion.com, Tel. +41 44 306 40 00, Fax +41 44 306 40 30

Related