Downlights have architectural look in round/square apertures.
Press Release Summary: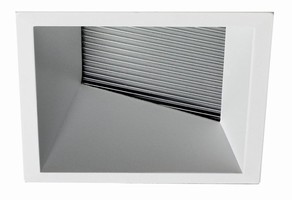 Featuring 3/16 in. flanged reflector trim that sits flush with ceiling line for minimal edge detail, Evoke Trimless 2.9 in. Downlights are designed around low wattage metal halide light sources, and also offer MR16 low wattage halogen lamping for highly switched areas and those requiring dimming. Offering consists of Downlights, Recessed Adjustable Accents, Pinhole Adjustable Accents, and Lens Wall Wash fixtures with Round/Square apertures of 2.9 in.
---
Original Press Release:

Amerlux Lighting Solutions Adds Evoke Trimless 2.9" Downlights



Small Energy Efficient, Specification Grade Luminaires Designed for an Integrated Architectural Look

FAIRFIELD, NJ -Offering a minimal, architectural look in Round and seamless Square apertures, Amerlux Lighting Solutions introduces Evoke Trimless 2.9" Downlights. As part of its EcoTectural product offering, Amerlux has designed and engineered Evoke Trimless luminaries, using the latest in 20w miniature low wattage metal halide lamp and ballast technologies for the commercial, retail, hospitality and institutional markets. Building on many years of experience of delivering task-specific, energy-efficient lighting solutions, Amerlux is committed to facilitating sustainable strategies recognized by organizations such as LEED (Leadership in Energy and Environmental Design) and The U.S Green Building Council.

Evoke Trimless 2.9" Downlights are designed with a 3/16" flanged reflector trim that sits flush with (not below) the ceiling line, for a minimal edge detail. Each fixture is supplied with a perforated plaster ring that gets mounted to the aperture for the application of drywall compound. The drywall compound is applied directly to the plaster ring and feathered away for a clean installation look in the ceiling. High performance lighting applications are effectively achieved from above a smooth, uninterrupted surface, for a clean, unobtrusive aesthetic.

The world's smallest, most comprehensive line of energy-efficient, specification grade luminaires, Evoke Trimless 2.9" Downlights deliver an unprecedented level of performance, architectural styling, and operating savings. The offering consists of Downlights, Recessed Adjustable Accents, Pinhole Adjustable Accents and Lens Wall Wash fixtures with Round or Square apertures of just 2.9 inches, providing architects and lighting designers with a comprehensive palette of luminaires.

Evoke Trimless 2.9" Downlights are designed around the latest low wattage metal halide light sources: 20 watt CDM-Tm Mini Master Color®
PGJ5 by Philips; 20 watt T4 GU6.5 Twist-and-Lock by GE; 20 watt CMH Precise MR16 GX10 Twist-and-Lock by GE; 20 watt PAR20 Medium Base by GE; 39 watt Brite Spot ES16 GX10 Twist-and-Lock by SLI; and 39 watt PAR20 Medium Base by Philips, Osram and GE. The line also offers MR16 low wattage halogen lamping for highly switched areas and those requiring dimming.

Evoke Trimless fixtures, offered with CDM-Tm and T4 GU6.5 lamps, feature Amerlux's specially designed optics that offer a variety of beam spread distributions with soft edges, free of striations: 12° Spot, 18° Narrow Flood, 25° Flood, 40° Wide Flood and 5° x 55° Linear Spread. These optics outperform prepackaged reflector lamps and are available in three custom tints-- Clear, Sunrise and Ferric Gold-- to enhance beam color and render results closer to the look of incandescent and halogen sources.

All Adjustable fixtures feature a unique CAM adjustment mechanism that maximizes aiming flexibility while keeping the housing's recessed depth to less than 6" (< 7" on PAR20) for today's tighter plenums. Adjustable fixtures offer lockable tilt from 0-40 degrees (0-25 degree tilt for pinhole adjustables) and 360 degree-plus rotation, providing for more aiming capability and visual consistency. Also featured are die-cast optic housings to ensure perfect alignment of lamps and reflectors.

The Evoke Trimless Square fixtures feature a unique die-cast seamless construction that eliminates lights leaks and provides a cleaner ceiling line. Evoke Trimless Pinhole reflector trims feature a 2-piece die-cast construction that offers superior visual comfort and aesthetics between the knife-edge baffle and faceplate.

Other accessories include: Hexcell Louver, Linear Spread Lens and Solite Beam Softening Lens, engineered specifically for added flexibility and beam manipulation.

ABOUT AMERLUX'S ECOTECTURAL LINE

Amerlux's EcoTectural product line features architectural lighting for sustainable design. With EcoTectural, the firm offers a broad selection of specification-grade luminaires designed to get more out of every watt without compromising performance. By designing housings and engineering optics specifically for the latest in low-wattage lamp technology, we can provide an aesthetically superior fit and finish coupled with superior performance and energy efficiency.

ABOUT AMERLUX LIGHTING SOLUTIONS

Amerlux Lighting Solutions is an independent, privately held company which has been a leader in designing and manufacturing flexible, high-performance lighting that adapts to the varied and evolving needs of the retail, supermarket, commercial and hospitality environments. Since 1984 Amerlux has focused on task-specific designs that deliver the right light for each application with the lowest energy consumption, utilizing the following product categories: Track, Recessed, Pendants, Linear Systems, Power Systems and custom designs.

For more information, contact: Amerlux Lighting Solutions 23 Daniel Road East Fairfield, NJ 07004-2527. T: 973-882-5010 F: 973-882-8970.
Website: www.amerlux.com E-Mail:mail@amerlux.com

More from Electrical Equipment & Systems