Downconverting Mixer suits LTE/WiMAX/MMDS base stations.
Press Release Summary: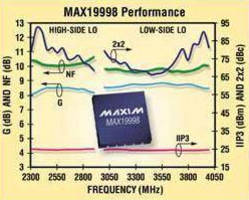 Model MAX19998, 2,300-4,000 MHz SiGe downconverting mixer features downconversion channel with 24.3 dBm of IIP3, 8.7 dB of conversion gain, and 9.7 dB noise figure. Unit has 2RF-2LO spurious rejection of 67 dBc for RF level of -10 dBm, and 62 dBc for level of -5 dBm. High- and low-side LO injection architectures for 3.1-3.9 GHz LTE and WiMAX(TM) base stations are supported, as well as 2.3-2.9 GHz LTE, WiMAX, and MMDS high-side architectures. Unit includes mixer core, 2 amplifiers, and 2 baluns.
---
Original Press Release:

Highest Linearity, SiGe Downconverting Mixer for LTE, WiMAX, and MMDS Base Stations



2.3GHz to 4GHz, SiGe downconverting mixer sets performance benchmarks.

Maxim's new SiGe downconverting mixer provides a highly integrated solution that reduces solution size by a factor of 2x while setting new performance benchmarks.

SUNNYVALE, CA - Maxim Integrated Products (NASDAQ: MXIM) introduces the MAX19998, a fully integrated, 2300MHz to 4000MHz, downconverting mixer with an on-chip LO buffer. Designed using Maxim's proprietary monolithic SiGe BiCMOS process, this device delivers an unparalleled combination of linearity, noise performance, and component integration over an exceptionally wide band of operation. A single IC provides a fully integrated downconversion channel, with 24.3dBm (typ) of IIP3, 8.7dB (typ) of conversion gain, and a 9.7dB (typ) noise figure. Additionally, the MAX19998 offers an industry-best 2RF - 2LO spurious rejection of 67dBc for an RF level of -10dBm, and 62dBc for a level of -5dBm.

This device is designed specifically for 4G wireless-infrastructure applications in which high linearity and a low noise figure are critical for enhanced receiver sensitivity and blocker immunity. The device supports both high- and low-side LO injection architectures for 3.1GHz to 3.9GHz LTE and WiMAX(TM) base stations; the MAX19998 can also be configured for 2.3GHz to 2.9GHz LTE, WiMAX, and MMDS high-side LO injection architectures.

As a complete SiGe downconverter, the MAX19998 integrates a state-of-the-art mixer core, two amplifiers, two baluns, and dozens of discrete components. The device's 8.7dB conversion gain enables the elimination of a complete IF amplifier stage within the receiver lineup. The MAX19998's outstanding 2RF - 2LO performance can also ease the filtering requirements of close-in harmonics, thus leading to simpler, more cost-effective filter designs. Through this combination of integration and performance, the device reduces downconverter solution size by a factor of 2x, and the discrete part count by 34%.

The MAX19998 is packaged in a compact, 5mm x 5mm, 20-pin TQFN that is pin compatible with the MAX19996 (a 2000MHz to 3000MHz single mixer) and the MAX19996A (a 2000MHz to 3900MHz single mixer). It is pin similar to the MAX9993/MAX9994/MAX9996 (1700MHz to 2200MHz mixers) and the MAX9984/MAX9986 (400MHz to 1000MHz mixers). This entire family of downconverters is ideal for applications in which a common PCB layout is used for multiple frequency bands. Prices start at $6.90 (1000-up, FOB USA).

Maxim Integrated Products is a publicly traded company that designs, manufactures, and sells high-performance semiconductor products. The Company was founded over 25 years ago with the mission to deliver innovative analog and mixed-signal engineering solutions that add value to its customers' products. To date, it has developed over 6300 products serving the industrial, communications, consumer, and computing markets.

Maxim reported revenue in excess of $1.6 billion for fiscal 2009. A Fortune 1000 company, Maxim is included in the Nasdaq 100, the Russell 1000, and the MSCI USA indices. For more information, go to www.maxim-ic.com.

More from Packaging Products & Equipment