Double Valves suit press clutch/brake applications.
Press Release Summary: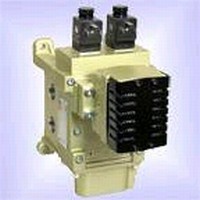 Featuring dirt tolerant, wear compensating characteristics of poppet technology, DM2(TM) Crossflow(TM) SERPAR® Double Valves integrate memory, monitoring, and airflow control functions. Units lock out due to asynchronous movement of valve elements during actuation or de-actuation, resulting in residual outlet pressure of less than 1% of supply. Available with BSPP or NPT pipe threads, base-mounted valves are designated by nominal sizes of 4, 8, 12, and 30 with outlet ports up to 2 in.
---
Original Press Release:

New DM2(TM) Crossflow(TM) SERPAR® Double Valves from ROSS CONTROLS®



ROSS CONTROLS® is proud to introduce its new line of DM2(TM) Crossflow(TM) SERPAR® Double Valves with TOTAL Dynamic Monitoring & Memory for Press Clutch/Brake Applications.

ROSS' new DM2(TM) Crossflow(TM) SERPAR® Double Valves combine the tough, dirt tolerant, wear compensating characteristics of poppet technology with new double valve features in response to the changing demands of the mechanical press industry and its associated standards and regulations regarding pneumatically controlled clutch/brake applications. The consensus standards and best practice require that, in case of a failure within the valve, the clutch and brake mechanisms be quickly exhausted, a monitor takes action to prevent further operation, and a method to alert personnel is incorporated. These new features also make the DM2(TM) valve suitable for use in other Category-3 & -4 safety-related applications.

Memory, monitoring, and air-flow control functions are simply integrated into two identical valve elements. DM2(TM) valves lock out due to asynchronous movement of valve elements during actuation or de-actuation, resulting in a residual outlet pressure of less than 1% of supply. Overt action is required for reset, and reset can only be accomplished by applying a remote air signal or by energizing the optional integrated electrical (solenoid) reset.

The DM2(TM) valves are base mounted, and available with BSPP or NPT pipe threads. Inlet and outlet ports on both sides of the bases provide for flexibility in piping. These new DM2(TM) Valves are available in 4 sizes, providing a broad range of flow capabilities to meet your needs. Valves are designated by the nominal sizes 4, 8, 12, and 30 with outlet ports up to 2".

An optional Status Indicator includes a pressure switch with both normally open and normally closed contacts to provide status feedback to the press control system indicating whether the valve is in the lock-out or ready-to-run condition. Also, all models include a high flow, clog resistant silencer.

For more information or for a free brochure about the DM2(TM) Crossflow(TM) SERPAR® Double Valves, contact:
ROSS CONTROLS®
Customer Service
800-438-7677 (in the U.S.) or 706-356-3708 (outside the U.S.)
E-mail: Customer Service

More from Electronic Components & Devices