Double Track Linear Guides Offer Compact Design with Robust Load Capacity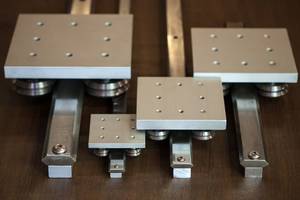 Modern Linear offers simplicity for machine engineers with Double Track linear Guide systems. Installation of a DT Linear Guide is easier and quicker than two single edge tracks because there are no issues regarding edge parallelism. The double track linear guide comes with a pre-assembled adjustable carriage, pre-drilled double track and matching spacer. The carriage includes adjustable bushings and is ready to slide onto the rail and adjust to fit. The rigid cross section of the track allows for fewer fasteners. The aluminum spacer can be used for continuous support of the track, or segmented for intermittent support. Intermittent supports are commonly used in high contaminant environments to prevent dust or chips from collecting around the linear guide.
The double track linear guide is made from Modern Linear's off-the-shelf guide rollers and double edge track. The double edge track incorporates two 90° v-edges and is made from AISI 1045 steel. The v-edges of Modern Linear double track are case hardened to 49-52 Rc. The remaining unhardened track can be drilled or machined. Carriage plates and rail extrusions are made from T6063 aluminum, anodized for protection. All hardware is 18-8 stainless steel. The double track carriage is available in four sizes with load capacities ranging from 268 lbs. to 3596 lbs.
Rails are available in standard and custom lengths up to 12 feet. Custom hole size and spacing options are also available. Alternate surface treatments including black oxide, thin dense chrome, and PTFE coating may be special ordered.
About Modern Linear
Modern Linear is a U.S. company offering value through global manufacturing and local support. Modern Linear offers guide roller components for existing markets and applications and will continue to develop products that, give designers alternatives to current products offered in the marketplace, replace current products with new materials to improve performance, improve installation of components to lower total system cost, and reduce the total number of components to lower acquisition cost.
Contact: Steve Fulton
Phone: 415-924-7938
Email: modernlinear@comcast.net
Marketing: Henry May
Phone: 415-924-7938
Email: marketing@modernlinear.com
Related