Double Syringes precisely mix and dispense adhesive.
Press Release Summary: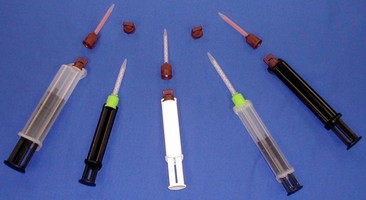 Offered in 2.5, 5, and 10 mL capacities, double barrel syringes are suited for applications that require nominal amounts of adhesive. Polypropylene products offer 1:1, 4:1, and 10:1 ratios and consist of manual plunger, dual cylinder syringe, and static mixer. Separated cylinders prevent diffusion of 2 components, and interface between syringe, static mixer, and cap optimizes performance while facilitating use. Black versions are available for light-sensitive materials.
---
Original Press Release:
ConProTec Announces the Availability of Double Syringes
New 2.5, 5 and 10mL double syringes for professional applications ConProTec Inc., the leading innovator of 2-component adhesive dispensing systems, announces the availability of its new line of double barrel syringes. Our new syringe system consists of a manual plunger, a dual cylinder syringe, and a static mixer, all designed to work together as an integrated and premium performance system. Syringes are available in 2.5, 5 and 10mL capacities and offered in 1:1, 4:1 and 10:1 ratios. These polypropylene syringes feature a unique interface design between the syringe, static mixer and cap which optimizes both performance and ease of use. The separated cylinders of the double syringe prevent diffusion of the two components. This system provides precise mixing and dispensing for those applications that require nominal amounts of adhesive. Syringes are also available in black, which is optimal for light sensitive materials. ConProTec is an engineering based company focused on developing the innovative line of the MIXPAC® SYSTEM for hand-held adhesive dispensing of 2-component adhesives and sealants as well as the complete line of STATOMIX® Motionless Mixers. With the MIXPAC® SYSTEM, 2-component adhesives are as easy to use as a single component adhesive. About ConProTec For more information regarding ConProTec's double syringes, contact ConProTec, Inc. 8 willow Street, Salem, NH 03079. Visit ConProTec on the World Wide Web at www.conprotec.com. Phone 603-893-2727 Fax 603-893-3737
More from Sensors, Monitors & Transducers