Double Disc Pumps handle fluids from 10-500 gpm.
Press Release Summary: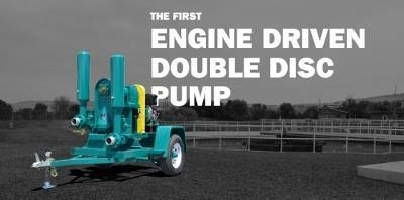 Offered with Tier 4 compliant diesel engine up to 40 hp, Sludge Pro® Pumps come in variety of sizes and styles to fit fluid pumping application. Ball valve model uses steel impregnated check ball and is suited for wastewater or sludge pumping applications above 10% solids. Clack valve model, using clack valve to move fluid from suction to discharge, is designed for pumping lower solids concentrations. Pumps are available with either off road or DOT approved trailers with electric brakes.
---
Original Press Release:

Engine Driven Double Disc Pump Now Available from Wastecorp



A new mobile pump solution for government and industry



NEW YORK, -- Pump manufacturer Wastecorp Pumps unveiled today the first engine driven double disc pump marketed under the Sludge Pro® brand name. The Sludge Pro® double disc pump is designed for wastewater, sludge and sewage pumping for government and industry. The Sludge Pro® double disc pump is a style of low maintenance wastewater pump with fluid handling capabilities ranging from 10-500 gallons per minute (GPM).



"We are the first double disc pump manufacturer to offer both a clack valve style and a ball valve style double disc pump to the wastewater treatment community," said Maggie Domingos, project manager at Wastecorp Pumps. "Now we are also the first double disc pump manufacturer to actively market engine driven double disc pumps for mobile pumping applications."



Sludge Pro® Engine Driven Double Disc Pumps

With all of Wastecorp's double disc pump products, the customer selects the size and style of pump that best fits their fluid pumping application. Wastecorp offers Tier 4 compliant diesel pump engines up to 40 hp and either off road or DOT approved trailers with electric brakes. The benefits of Sludge Pro engine driven double disc pumps include no regular scheduled maintenance required, available pressure sensors to assist in detecting blockages or closed valves in the line and an optional industry exclusive hydraulic lift system for easy access to pump internals. To order Wastecorp Sludge Pro engine driven double disc pumps visit: http://www.wastecorp.com/disc-pumps/mobile-double-disc-pumps.html



The Difference Between a Clack Valve and Ball Valve Style Double Disc Pump



The selection of either the clack valve model or ball valve model is usually determined by the amount of solids in the application. The ball valve model may be a good choice for wastewater or sludge pumping applications above 10% solids. These conditions are most commonly found at municipal wastewater treatment plants, refineries, mines and food processing facilities. The ball valve model uses a steel impregnated check ball to move tough abrasives and solids laden liquids to the discharge side with minimal contact with other pump components. The ball valve model is designed for up to 24 hour operating cycles.



The clack valve model is designed for pumping lower solids concentrations and uses a clack (check valve) to move fluid from the suction to the discharge. This is the most robust clack on the market designed for operating cycles up to 8 hours of pumping per day. For more information on Sludge Pro double disc pumps visit:  http://www.wastecorp.com/disc-pumps.html



About Wastecorp Pumps:

Wastecorp Pumps designs and manufactures heavy duty pumps and replacement parts for municipal, industrial, commercial and marine water and wastewater treatment applications. Wastecorp brands include America's favorite diaphragm pump, Mud Sucker diaphragm pumps, Sludge Master plunger pumps, Trash Flow self priming trash pumps and of course the Sludge Pro double disc pump. Contact Wastecorp Pumps toll-free at 1-888-829-2783, or by e-mail: info@wastecorp.com. Visit www.wastecorp.com for more information.



CONTACT: Daniel Starr, SVP Marketing and Communication, Tel: (888) 829-2783, dstarr@wastecorp.com



Web Site: http://www.wastecorp.com



More from Packaging Products & Equipment