Double-Beam Mobile Gantry Cranes suit concrete, steel industries.
Press Release Summary: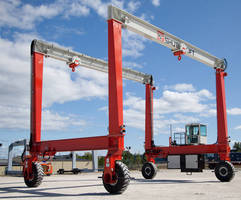 Offered in 60,000-400,000 lb capacities, rubber-tired DB Series suits long-term, heavy-duty cycle work in moderate terrain environment. Loads are suspended beneath frame, and hoists are mounted to lower side beam. Together with cantilever wheel frame, planetary direct drives promote precision control during travel. In addition to cab with 19.8 ft² floor space and 180° indexable seat position, features include all wheel electronic steering, grease fittings, and hydraulic oil cooler.
---
Original Press Release:
Shuttlelift Debuts Its New Line of Double - Beam Mobile Gantry Cranes
Evolutionary New Line Complements Shuttlelift's Mobile Gantry Crane Products STURGEON BAY, WI - In response to a growing need for efficient and cost effective lifting solutions Shuttlelift launched a new series of double-beam mobile gantry cranes in September in Sturgeon Bay, Wisconsin. The new DB Series rubber-tired gantry cranes complement a line-up of customer inspired lifting solutions offered by Shuttlelift. With over half a century of mobile gantry crane experience, Shuttlelift gantry cranes are designed for a multitude of industries and heavy lifting scenarios. The double-beam mobile gantry crane is no exception, as it is driven by superior engineering and designed with the legendary quality, service and dependability that the company is known for. According to Shuttlelift's Director of Industrial Sales, Kurt Minten, the new DB Series was designed for plant managers who are searching for a more cost-effective ways to do business. "Plant managers have a lot of factors to consider when purchasing new equipment. They want something that is going to perform well and last for many years." He continues, "They also want something that is easy to maintain and offers versatility in their lifting environment." Shuttlelift's complete line-up features four innovative and diverse mobile gantry crane series designed to work in a variety of applications and industries. The four series include: SL Series: The SL model is designed for lower duty cycle "pick and carry" type jobs. It is the most economical choice for handling large loads. SB Series: The SB model is a single-beam mobile gantry crane designed for single point picks and tandem picking. For tandem picking this gantry crane works in conjunction with any conventional rubber-tired gantry crane that may already be onsite, regardless of brand. This crane is also a great indoor overhead crane alternative and does not require additional building infrastructure making it a budget friendly decision. ISL Series: The ISL model is designed for higher duty cycles; it can handle a wide variety of load configurations and works well in unimproved terrain environments. A unique feature of this gantry crane is the pivot trunnion which allows the crane to flex when traveling over uneven terrain without causing structural damage. DB Series: The DB model is a double-beam mobile gantry crane designed for long-term, heavy-duty cycle work in a moderate terrain environment. This mobile gantry crane is a strong economical player in the concrete and steel industries. Shuttlelift is able to work with customers to propose the ideal lifting solution for their specific needs while factoring in important logistics such as load configurations, duty cycles, yard conditions, and the customer's economic situation. The complete line-up of Shuttlelift's four industrial mobile gantry cranes offers optional features that take your crane's performance to the next level. These options are designed to improve operational safety and increase productivity. A few key options include: flexible steering modes, the ability to rotate loads faster and more efficiently, and an option to reduce fuel consumption. Shuttlelift's mobile gantry cranes can solve the toughest material handling challenges and are proud to provide cutting edge solutions, innovative engineering and the best CustomerCare support in the world. For more information about Shuttlelift and its full range of rubber-tired gantry cranes, email the sales team at [email protected] or visit www.shuttlelift.com. Shuttlelift rubber-tired gantry cranes are the preferred customer-inspired solution for heavy lifting requirements and are manufactured to specification for a multitude of applications, worldwide. The Sturgeon Bay, Wisconsin-based company manufactures cranes with capacities ranging from 15 to 1,000 U.S. tons, all of which are supported by a global network of experienced dealers. Through superior engineering innovations, Shuttlelift has become one of the premier lines in the today's materialshandling industry.