Double-Acting Locknut Cylinders feature low closed height.
Press Release Summary: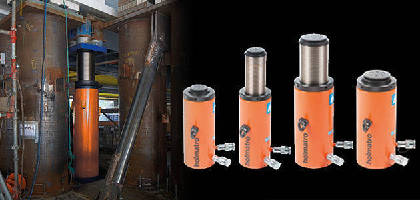 Equipped with smart return-plunger instead of usual stop ring, Double-Acting Locknut Cylinders offer advantages in safety, maintenance, and durability. Use of integrated safety valves protects cylinders against overpressure on return side. Multiple-start thread is provided on plunger for positioning locknut quickly. Because of rounded thread, dirt on plunger can be removed easily. All cylinders are wear-resistant and protected against corrosion.
---
Original Press Release:

Revolutionary Innovation by Holmatro; Double-acting Locknut Cylinders with Extreme Low Closed Height



Usability and functionality merge within Holmatro's latest cylinder range; double-acting locknut cylinders with extreme low closed height. Extraordinary, because the cylinders are hardly higher than gravity return locknut cylinders.



There is a frequent need for double-acting locknut cylinders with low closed height. Enough reason for Holmatro to develop a unique range of double-acting locknut cylinders. The result is revolutionary. Because of the unique construction the closed height stays low, which makes the cylinders suitable for many different applications.



Smart return-plunger increases pressure surface

Holmatro's new double-acting locknut cylinders offer significant advantages in safety, maintenance and durability. The cylinders are equipped with a smart return-plunger instead of the usual stop ring. This unique construction increases the pressure surface, resulting in more power with a smaller diameter. By making use of integrated safety valves, the cylinders are protected extra against overpressure on the return side. Multiple-start thread is provided on the plunger for positioning the locknut quickly. Dirt on the plunger can be removed more easily because of the rounded thread. All cylinders are optimal wear resistant and corrosion protected.



All of our products are developed, produced and exhaustively tested in-house. The result: true Dutch quality and robustness. Moreover, our products have an extremely long life span that can also be extended with an extensive service programme.



Feel The Power!

More from Agricultural & Farming Products