Dortronics Push Button Switches Make Handicap Access Easier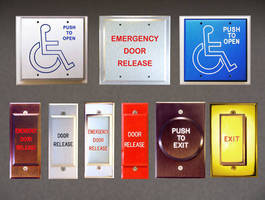 Designed for Visibility and Easy Operation



Orlando, FL (September 12, 2016) - Dortronics is showcasing their lineup of handicap accessible push button switches at ASIS 2016 this week. Available with a wide range of options, the switches are ideal for installation in hospitals, casinos, warehouses, banks, schools, offices and more.



"The many design options available in our lineup makes push button access available to a wide range of users," said Bryan Sanderford, National Sales Manager, Dortronics Systems, Inc. "The text is large and easy to read, and the colors are bright and highly visible, creating a more usable and friendly device."



Installation is easy with options for single and double gang design, and momentary, alternate action and time delayed contacts. Also available are piezo electric switches for heavy duty applications; a variety of button sizes and style selections; and chrome, brass or bronze finishes. Switches can also be configured with LED status indicators or with custom engraving.



Dortronics handicap accessible push button switches are available on the 5210 Series heavy duty palm button switches; 5286 Series code compliant and customizable push button switches; 5287 Series designed to absorb direct force impact and deflect side blows; 5276 Series vandal resistant and water proof for use in extreme conditions.



For more information on Dortronics' extensive line of access control products call toll free 1-800-906-0137, e-mail sales@dortronics.com or visit their website www.dortronics.com.



About Dortronics Systems, Inc.



Dortronics Systems, Inc. is a U.S. based manufacturer of standard and customized access control products and locking hardware devices. Our comprehensive suite of products includes electric strikes, maglocks, panic bars, key switches, pushbutton controls, delayed egress systems, door prop alarms, and mantrap interlock controllers that can be supplied with alarm annunciators and security consoles. Products are available in a variety of colors and finishes from stock with most products available for shipment the next day. Custom colors, finishes and features are also available upon specification with fast turn-around.

More from Communication Systems & Equipment