Dornier Seastar Amphibious Aircraft to Feature AMETEK PDS Starter Generators, GCUs and Actuation Systems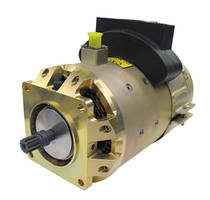 HARLEYSVILLE, PA (June 18, 2020) – In March 2020, the Dornier Seawings team reached a key milestone when they received EASA and LBA approvals and successfully performed a 31-minute first flight in Oberpfaffenhofen, Germany with their Seastar amphibious aircraft, which is currently in development. AMETEK PDS Starter Generators, Generator Control Units (GCUs), Aileron Trim Actuators and Rudder Trim Actuators were featured on the first flight.
The new Seastar is designed to efficiently connect land and sea through the sky by offering new, highly efficient propellers as well as a corrosion-resistant composite structure that will significantly reduce maintenance costs and downtime, particularly in sea water operations.
The vastly improved Seastar turboprop has two AMETEK PDS ducted 300 Amp Starter Generators (MG88C-1) with a Quick Attach / Detach kit (KG88C-1) and an Air Inlet Adapter (VC88C-1). These components are designed to offer maximized output at low speeds for optimal fuel savings. Power from the Starter Generators is controlled through complementary PDS patented voltage regulation technology analog Generator Control Units (CG208A-1).
In addition, the Seastar's Aileron Trim (ACL23C-1) and Rudder Trim (ACL23C-1) are powered by AMETEK PDS Linear Actuators, which can move up to 5,000 lbs. The Actuators feature a mechanical and force torque limiting design that minimizes the opportunity for system level and nuisance trips.
To learn more about AMETEK PDS commercial off-the-shelf and custom engineered Starter Generators, GCUs and Actuation Systems, visit www.AmetekPDS.com.
About AMETEK PDS
AMETEK PDS is a leader in the design and manufacturing of integrated power generation and solid-state power distribution systems, starter generators, DC motors, linear and rotary actuators, data concentration, fans & blowers, and cockpit instruments for business jets, regional and commercial transport, helicopters, military aircraft, and unmanned aerial vehicles.
PDS is a business unit in the Aerospace & Defense Division of AMETEK, Inc. a leading global manufacturer of electronic instruments and electromechanical devices with annual sales of approximately $5.2 billion. For more information, contact AMETEK PDS, 343 Godshall Drive, Harleysville, PA 19438. Phone: 316-522-0424. E-mail: ametek-pds-sales@ametek.com. Web: www.AmetekPDS.com.
About Dornier Seawings
Dornier Seawings, based in Germany and China, is the culmination of three generations of Dornier aviation heritage that designs, develops and manufactures foremost seaplanes. Dornier Seawings is a multicultural and multi-national Joint Venture between the Dornier family and two state-owned Chinese enterprises: Wuxi Industry Development Group Co., Ltd and Wuxi Communications Industry Group Co., Ltd. Today, the company's mission is to design, produce, sell and support the Dornier Seastar CD2, the world's most advanced amphibious aircraft.
Contact: Cory Lippert, 267-933-2145, cory.lippert@ametek.com