Dome offers protection against contaminants.
Press Release Summary: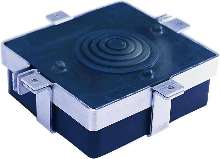 MOUSE-TRAK® Panel Mount Sealed Dome Unit utilizes deformable dome mounted over miniaturized motion encoder mechanism to capture user inputs. NEMA 4 rated device is suited for marine applications and environments such as mines and paper mills. Unit measures 4.5 x 4.5 in. and draws 1.6 in. below mounting surface. Domes are available with full three-button mouse functionality, and are compatible with PS/2, Sun, and USB interfaces.
---
Original Press Release:

ITAC Systems Adds Sealed Models to Panel Mount Dome MOUSE-TRAK® Input Device Line


Extending its rugged MOUSE-TRAK Panel Mount Dome line, ITAC has introduced a new Sealed MOUSE-TRAK Panel Mount Dome Industrial series of products tailored to applications needing NEMA 4 capable input devices.

GARLAND, Texas-October 21, 2002-ITAC Systems, Inc., announced today three versions of its MOUSE-TRAK® Panel Mount Sealed Dome Industrial compatible with PS/2, Sun, and USB (Universal Serial Bus) interfaces.

Responding to strong interest from its industrial automation and marine equipment OEM customers, ITAC has introduced Sealed versions of its PS/2, Sun, and USB versions of its Dome
Technology input devices in panel mountable configurations. ITAC's Dome Panel Mount MOUSE-TRAK products offer more ruggedness than industrial trackballs and better precision and control than sealed touchpads. These new devices use a deformable dome mounted over a miniaturized motion encoder mechanism to capture user inputs.
Don Bynum, President of ITAC Systems reports that "These devices are ideally suited for extremely dirty environments such as mines and paper mills, as well as marine applications where salt
water spray make other input devices prone to failure due to corrosion. The new Sealed Dome MOUSE-TRAKs, while inherently less precise than trackballs, have the advantages offered by a
ruggedized and sealed touch pad, but add significant precision, tactile feedback, and sensitivity that touch pads are, so far, lacking."

In some industrial automation applications there is so much dust and grit, sometimes corrosive dust and grit, that even ITAC's widely used Industrial MOUSE-TRAK becomes contaminated,
even with its dust guard installed! In Industrial applications, loss of mouse functions can result in serious and expensive system downtime at critical moments. ITAC's new dome input devices offer very high tolerance for environmental contaminants at affordable prices. Pricing ranges between $250 for single units down to near $100 in OEM quantities.

The MOUSE-TRAK Panel Mount Sealed Dome Industrial offers a compact footprint (4.5" x 4.5") and draws only 1.6" in depth below the mounting surface. The product is designed to be
attached to a mounting panel using 4 machine screws to maximize flexibility for enclosure designers. Available with full three-button mouse functionality, the Panel Mount Dome offers OEM equipment designers a great deal of flexibility since the units work mounted at any angle. The cable for the unit includes wiring to allow connection of an additional, user-supplied, switch for ITAC's unique instant speed control function. The Panel Mount Sealed Dome products are also offered as options on ITAC's EnviroCase Industrial Computer Enclosures.

As a convenience, ITAC offers OEM designers the option of downloading case assembly drawings in AutoCAD DWG format from ITAC's web site at www.itacsystems.com. Complete technical specifications are also available via the web.

Plug and Play Convenience
Like all of ITAC's products, these new devices offer easy installation. Just plug them in. There are no special software drivers to install-they work with the drivers that come with your operating system (for USB users, Windows 98, XP, or Windows 2000 is required).

Priced at $250 (end-user quantity-one pricing), the Dome MOUSE-TRAKs are well below the cost of ruggedized input devices on the market today.

A Family of Precision Input Devices and Factory Floor Ruggedization Tools
The Sealed Dome Panel Mount MOUSE-TRAKs are the most recent members of the MOUSE-TRAK family of ruggedization and productivity options for Industrial, Medical, Marine, and Military applications.

About the Company
ITAC Systems, Inc., founded in 1977, is a privately held company based in Garland, Texas. ITAC designs, manufactures, and markets MOUSE-TRAK high-performance computer input devices used in manufacturing process control, transaction processing, and medical systems, as well as computer graphics, engineering, and government markets.

ITAC Systems, Inc., 3113 Benton Street, Garland, TX 75042. Toll Free: 800-533-4822, Ph: 972-494-3073, Fax: 972-494-4159, sales@itacsystems.com, www.itacsystems.com.


More from Explosives, Armaments, and Weaponry