Dome Lighting calms patients in MRI rooms.
Press Release Summary: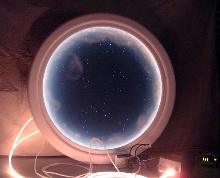 MRI StarDomes(TM) have zero EMF and use no electricity; stars and cove light use only fiber optics to transmit light. Product uses halogen light source for side emitting fiber optic cove light and LED circuit board for stars in adjacent utility room. Run through wave guide tube into shielded MRI room, fibers help calm patients with blue color, circular shape, constellation patterns, and day to night transition.
---
Original Press Release:

StarDomes for MRI Rooms


To provide a StarDome suitable for an MRI room, Numinus, LLC was required to provide a product StarDome with zero EMFs (electro magnetic field) inside the MRI room. With this limitation, Numinus went to work on the first MRI StarDome. The end result is MRI StarDome -with NO electricity in the MRI room -Both the stars and the cove light use only fiber optics to transmit their light.

With the halogen light source for the side emitting fiber optic cove light, and the LED circuit board for the stars in an adjacent utility room, the fibers run through a tube called 'wave guide' into the shielded MRI room.

Numinus provided Devils Glenn Medical Facility in Davenport, Iowa with the MRI compliant StarDome and a standard StarDome for above their CT scanner. To control the cove light, Numinus provided preprogrammed lighting controls so that the cove light is constantly cycling from a day sky to a night sky.

"The patients love it," remarks Mike Sharp the project manager at Genesis Medical, "As well as the staff".

The characteristics of a StarDome reflect ancient philosophies for relaxation, which help to calm patients such as:

-The color blue -which slows the heart rate and lowers blood pressure.

-The circular shape -representing tranquility and balance.

-The constellation patterns -a timeless feature reflecting ancient wisdom and where we are in the universe.

-The day to night transition -represents the Ying-Yang balance of life.

For more information on MRI StarDomes(TM) call:

Lisa L. Isaacson
Executive Member
Client Liaison
Numinus, LLC
1.888.611.DOME
(P) 760.753.0634
(F) 760.753.0639
www.stardomes.com

Related