Dome Cameras suit low light and normal operation.
Press Release Summary: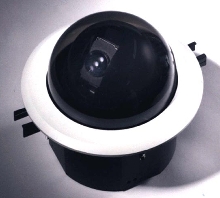 SurveillixDome CCTV cameras are offered with or without Day/Night imaging capabilities. Based on color ¼ in. CCD sensors, minimum illumination with and without Day/Night imaging is 0.01 and 0.05 lux respectively. They provide 480-line resolution and 300 °/sec pan with variable speed rates and 360° continuous pan range. Cameras come with brackets, mounts, and universal controller. RS-422 Remote Control links up to 255 units on one system.
---
Original Press Release:
Toshiba Security Products Introduces Two New Easy-To-Install CCTV Dome Cameras

IRVINE, CA, June 11, 2002 -- Dome video cameras are essential in retail, institutional and commercial video surveillance systems yet remain one of the most difficult and time-consuming components to install. To combat this problem, Toshiba Security Products has launched its new SurveillixDome Line of easy-to-install dome cameras.

The new SurveillixDome cameras are members of Toshiba's expanding Surveillix® family of products, all of which are designed to work together to offer unprecedented performance.

"Since introducing our first CCTV cameras several decades ago, Toshiba has consistently provided features not found in competitive cameras," said Sergio Collazo, National Sales Manager, Toshiba Security Products. "Our new SurveillixDome cameras continue that trend and go further by offering exceptional ease of installation, powerful imaging capabilities and bottom-line cost effectiveness."

TWO CAMERA SOLUTIONS TO CHOOSE FROM

According to Collazo, two cameras are immediately available in the SurveillixDome family: the IK-DP02A, a low-light dome with Day/Night imaging capabilities, and the IK-DP01A, a cost-effective imaging solution with the same feature package as the IK-DP02A, except for the day-night imaging. Both domes are based on high-resolution color 1/4 inch CCD sensors, with minimum illumination for the IK-DP02A being an amazing 0.01 lux for extreme low-light applications, and the minimum illumination for the IK-DP01A being 0.05 lux for standard operations. The IK-DP021s Day/Night automatically senses low light and changes the cameras imaging from color to black & white for improved detail capture.

Engineered from the ground up with the installer in mind, SurveillixDome cameras are available from Toshiba with everything that is needed to complete the system, including brackets, mounts (pendent outdoor, pendent indoor, flush mount), universal controller and other apparatus, so there is are no wasted time, extra overhead costs, or added hassles from buying from third-party venders.

The two domes share the same compact dimensions for space-sensitive use, plus both are simple to program and install, thanks to their onscreen, user-friendly menus. And while both SurveillixDome cameras retail for significantly less than competitive models, they deliver equal or better performance. Key features are:

- Ultra-sharp 480-line resolution

- Auto focus with manual override

- Programmable camera settings

- 300 degree/second pan with variable speed rates and smooth, steady motion

- RS-422 Remote Control to link up to 255 units on a single system

- Powerful 18x optical/12x digital zoom

- 360° Continuous Pan Range with 85° Tilt Range

- Quick, simple electrical connections

- F=1.4, x18 optical zoom lens (f=4.1mm to 73.8mm) with total zoom capabilities of x216 when combined with the x12 digital zoom

Built to the highest industry standards, SurveillixDome cameras are Digital Recorder Ready with 50dB signal-to-noise ratio for digital recording excellence; most competitive models are a less than optimal 46dB. Toshiba backs the new cameras with its Express Exchange Program that assures if a defect is found, the company will replace the camera with a new or reconditioned product.

For more information and the name of a local Toshiba distributor, call 1-800-550-8674.

Toshiba Security Products is a business unit of Toshiba Imaging Systems Division, one of the nine divisions that make up Toshiba America Information Systems. Toshiba Security Products markets a wide range of video surveillance solutions including CCTV cameras, timelapse recorders and monitors.