Dome Cameras deliver optimal performance via features.
Press Release Summary: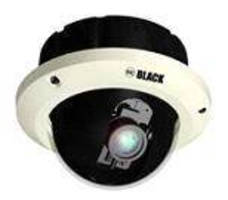 Comprised of 8 indoor and 9 outdoor models, SC Black dome cameras feature Sony or Pixim chipsets and ADL varifocal, auto-iris lenses. Hi-Res models integrate features such as built-in UTP, digital noise reduction, on-screen display, digital slow shutter, and motion detection. While select cameras feature day/night capabilities via external illuminators, others are optimized for dynamic rage to handle harsh lighting conditions.
---
Original Press Release:

SC Black Dome Cameras Combine Performance and Value



Intelligently Designed for Installation Convenience.

Austin, TX (February 10, 2009) - A new suite of dome cameras from SC Black - including eight indoor and nine outdoor models - is designed to maximize performance, convenience and value. Supercircuits, a leading manufacturer and distributor of video surveillance equipment, is introducing the cameras as part of the new SC Black line of products sold exclusively through certified dealers.

All models in the dome line feature premium Sony or Pixim chipsets and ADL varifocal, auto-iris lenses. High-resolution models feature the SC Black Performance Pack, a combination of advanced features including built-in UTP to extend transmission range, digital noise reduction (DNR) for a cleaner signal and clearer image, on-screen display (OSD) to fine-tune image quality, digital slow shutter (DSS) for clear images in low light and built-in motion detection.

"Like all SC Black products, our dome cameras were designed based on feedback from our customers," said George Farley, Vice President of Marketing. "Our goal is to deliver the best possible performance and the best value in the industry for the end-user."

Select cameras feature day/night capabilities that improve the camera's low-light sensitivity, enable the camera to see in the dark with external illuminators, and allow more light into the imager to deliver a clearer picture. Other models feature wide dynamic range, enabling the camera to deliver video with near perfect exposure in even the harshest of lighting conditions.

Outdoor models are IP67-rated, resistant to dust and 100 percent waterproof. A rugged aluminum die-cast housing also protects outdoor models against accidental impact or vandalism.

The cameras are intelligently designed with unique features to simplify installation, including a joystick-driven on-screen display, a 3-axis gimble to facilitate camera positioning, and a second video out (RCA) to permit use of a test monitor to adjust the camera without having to disconnect it from the security system.

"With all SC Black solutions, our customers can expect more - more value, more performance and more support," said Mr. Farley. "As the SC Black name continues to grow in the industry, this will be the hallmark of every product we offer."

For more information call 1-877-572-2522 or email sales@SC-BLACK.com.

About Supercircuits
Supercircuits is a leading manufacturer and distributor of video and audio surveillance equipment with more than one hundred thousand customers in North America. As the industry's trusted source in video surveillance, Supercircuits offers the latest technology in security solutions including IP video surveillance, closed circuit television, digital video recorders, and integrated systems. Additionally, Supercircuits has the largest selection of covert surveillance equipment available in North America. Supercircuits was founded in 1989 and is headquartered in Austin, TX. For more information about Supercircuits, please visit www.supercircuits.com.

More from Software