Document Camera captures and displays real-time images.
Press Release Summary: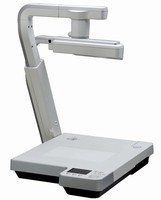 With 1,350,000 pixel CMOS image sensor and 30 fps output, ELMO P100 document camera provides smooth, natural moving subjects that overcome stroboscopic effects caused by zoom ajusting itself when image is moved or changed. HDTV-Ready, 720P-compatible unit includes built-in LCD color monitor, light box for transparencies, and USB 2.0 set up for 4:3 or high-definition 16:9 monitors. Images and presentations can be stored on optional SD card.
---
Original Press Release:

New HDTV-Ready ELMO P100 Document Camera Captures and Displays Real-Time Images with 30fps Output



PLAINVIEW, NY, DECEMBER 14, 2006 - The new HDTV-ready ELMO P100 Document Camera is designed to enhance the presentation of information in areas that require the most demanding results. It is for personnel in colleges, universities, business training centers, boardrooms and in courtrooms who require sharp, color accurate images and detailed close-ups that can be observed from many points of view. The P100's 30 frames/second (FPS) output has a 1,350,000 pixels CMOS image sensor and captures and displays objects in real-time providing smooth, natural moving subjects that overcome the stroboscopic effects caused when the zoom adjusts itself as the subject is moved, or changed. This allows the audience to concentrate on the presentation.

USB 2.0 port links with PC's (MAC software will be available soon) to make it easy for the presenter to store or annotate still images to highlight important points. With an MSRP of $3850, the P100 includes a built-in LCD color monitor on the stage and a light box for transparencies.

The P100 is equipped to work with and bring out the best in today's new technologies. Ready for HDTV, this 720P-compatible product will fill a large flat panel screen from edge to edge with a brilliant image. It has an SD chip and USB2.0 that is set up for either 4:3 or high-definition 16:9 monitors. Images can be stored on an SD card (sold separately) to be used to make presentations using slides stored on the card without the need to bring along a PC and other hardware.

The superb ELMO optical system, working in conjunction with a flexible free arm function broadens the reach of teaching and presentation. A high quality 16X optical zoom with a 4x digital zoom can capture the highlights of the subject from any angle. Instructors and teachers can then project subjects that should be shown from the side, like beakers with liquids, and three-dimensional objects from selected angles. By fixing the arm at the most suitable position, the presenter can capture images from locations lower than usual to produce a wider range of more effective presentations. This broadens the instructor's repertoire of communication techniques

No detail is spared to make the P100 an effective communication tool. With the head's auto flip feature, no matter which way the camera is pointed at a wall, it will be looking from top to bottom and does not have to be switched by image rotation. B & W text legibility can be sharpened using the detail compensation and text contrast mode. The DVI output helps transfer high quality video data from a PC without loss of image quality. The one-touch arm and light sets up easily to meet ADA compliance. With an RS232C interface, the control buttons on the P100 are easy to use, zoom dial and auto focus are fast and accurate.

The P100 is RoHS compliant to help preserve a healthy and green environment.

ELMO USA CORP.
1478 OLD COUNTRY ROAD
PLAINVIEW, NY 11803
516-501-1400/FAX 516-501-0429
CONTACT: Howard Winch

More from Agricultural & Farming Products