Data and Database Management Software
Document and Email Management Solution Updated with Enhanced Features and Capabilities
Press Release Summary: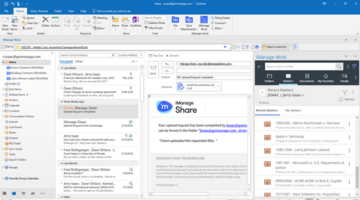 The new iManage Work 10.2 document and email management application  includes advanced search capabilities and support for more platforms.  New features include enterprise-grade security enhancements, email filing for Apple tablets, and automatic updates. The new application also includes iManage drive, which functions like a local drive and allows users to drag-and-drop and delete files.
---
Original Press Release:
iManage Introduces iManage Work 10.2 for Document and Email Management
New platform support, enterprise-grade security and automatic updates further increase user adoption and agility for professionals
CHICAGO, Aug. 14, 2018 (GLOBE NEWSWIRE) -- iManage, the company dedicated to transforming how professionals work, today introduced iManage Work 10.2, the latest version of its market leading document and email management application. iManage Work 10.2 delivers powerful features, new supported platforms and enhanced search capabilities designed to enhance user satisfaction and adoption while enabling IT organizations to more rapidly take advantage of new iManage product innovations.
iManage Work 10.2 appeals to a greater audience of users with new Apple Mac support and Google Gmail integrations. New email filing features on the iPad extend the full-functioned user experience to this key platform. iManage Drive, which is being released concurrently with iManage Work 10.2, makes files in iManage Work appear just like a local drive in Windows Explorer and Mac Finder. This allows users to drag-and-drop, delete files and perform sophisticated file operations easily and rapidly in a familiar environment. Together, these features enhance the value of iManage to new groups of users, increasing user satisfaction and system adoption.
Professional services firms require key systems to provide the best security for sensitive client data. With iManage Work 10.2, iManage delivers enterprise-grade security enhancements including client managed encryption keys. These enable iManage clients to use cloud services, such as Microsoft Azure HSM, to manage the encryption of files in iManage, ensuring that no one can de-encrypt files without their consent. Secure application integration is enhanced through single sign-on oAuth support while enterprise deployments of iManage email management in Exchange environments have been made even more secure.
Professional services organizations are also looking for ways to keep pace with innovations in the market. A key feature in iManage Work 10.2 is automatic updates, which enables organizations to update to the latest version of iManage Work automatically and easily, taking advantage of innovations that iManage is delivering, as they become available.
"We are excited about the new features in iManage Work 10.2," said Mustafa Mohabbat, National IT Manager, Ferrier Hodgson. "With Mac and iPad support, our users will be able to choose whichever platform they prefer. Having automatic updates means we'll get the latest features pushed directly to us with minimal intervention. iManage continues to develop innovative products that increase our attorneys' efficiency, which, in turn, presents a value to our clients."
"iManage Work advances the state of the art in work product management by enhancing user adoption, information security and the pace at which firms can innovate," said Shawn Misquitta, Vice President of Product Management, iManage. "No matter how today's professionals prefer to get their work done – using a Mac, a Windows PC, a mobile device or a tablet – iManage Work 10.2 provides the same seamless user experience, so professionals can work both more productively and more securely." 
Follow iManage via:
Twitter: https://twitter.com/imanageinc
Facebook: https://www.facebook.com/iManageinc/
Blog: https://imanage.com/blog/
Vimeo: https://vimeo.com/imanage
LinkedIn: https://www.linkedin.com/company/imanage
About iManage
iManage transforms how professionals in legal, accounting and financial services get work done by combining the power of artificial intelligence with market leading document and email management. iManage automates routine cognitive tasks, provides powerful insights and streamlines how professionals work, while maintaining the highest level of security and governance over critical client and corporate data. Over one million professionals at over 3,000 organizations in over 65 countries – including more than 2,000 law firms and 500 corporate legal departments – rely on iManage to deliver great client work.