Do-It Corporation Moves to Make PET Primary Hang Tab Material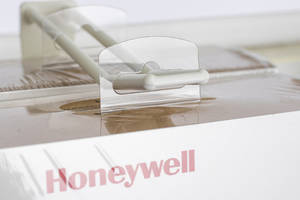 South Haven, Michigan based Do-It Corporation is currently transitioning its primary material for making hang tabs to Polyethylene Terephthalate (PET). For over 40 years, Do-It Corporation has been making hang tabs and other retail display products in a variety of materials but with Polyvinyl Chloride (PVC) being its primary plastic choice.
Recent improvements in manufacturability, material costs, and hang tab performance with PET have been instrumental in the decision to make this change. This is also an opportunity for Do-It to simplify its product offering as there will no longer be any need to make hang tab products in both materials.
"We are discontinuing the use of PVC plastic as many of our customers cannot accept this material. Products made in PVC plastic will transition to PET plastic. The performance and clarity of PET plastic is equal to or better than PVC plastic," said Ron McIntyre, Vice President of Sales & Marketing for Do-It Corporation. Do-It will continue to offer hang tab products in PVC for customers who prefer this material and for certain products that are tied to this material.
Do-It Corporation also has a Recycled Polyethylene Terephthalate (RPET) material available to produce hang tabs. Made with 25% post-consumer recycled PET, mainly from beverage bottles, this material has met all of Do-It's stringent hang tab testing requirements. Both the PET and RPET prouducts can be recycled under Plastic Code 1.
In addition, Do-It Corporation is now offering a group of select hang tabs made in XTR Paperboard, a sustainable, renewable, and biodegradable material. The "XTR" stands for Extra Tear Resistant, as this specially engineered paperboard is approximately 30% stronger and more durable than standard SBS paperboard. Check out the link below for more information on XTR Paperboard.
Since 1973, Do-It Corporation has been designing and producing plastic retail display components to various industries around the world including critical businesses that provide food, medical supply, and personal care products.
For more information about all Do-It Materials please contact Ron McIntyre, Vice President, Sales & Marketing at ron.mcintyre@do-it.com.