DNA/RNA Isolation Kit purifies nucleic acid.
Press Release Summary: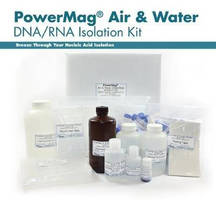 Used with Eppendorf epMotiona automated pipetting system and other similar automation platforms, PowerMag® Air and Water DNA/RNA Isolation Kit provides automated, hands-free purification of nucleic acids from filtered air and water samples. Bead-based lysis ensures uniform representation of nucleic acid population. By completely removing PCR inhibitors found in turbid or contaminated water,  Inhibitor Removal Technology® eliminates false negatives in downstream applications.
---
Original Press Release:

MO BIO Laboratories, Inc. Launches the PowerMag® Air and Water DNA/RNA Isolation Kit



CARLSBAD, Calif.,  -- MO BIO Laboratories, Inc., the leader in soil, water and microbial nucleic acid purification, announces the launch of the PowerMag® Air & Water DNA/RNA Isolation Kit, for automated, hands-free purification of nucleic acids from filtered air and water samples using the Eppendorf epMotiona automated pipetting system and other similar automation platforms.



The PowerMag® Air & Water DNA/RNA Isolation Kit is the latest in the high quality nucleic acid purification tools developed using key MO BIO technologies:



--  Unique bead-based lysis for uniform representation of the nucleic acid population

--  Inhibitor Removal Technology® (IRT) for complete removal of PCR inhibitors commonly found in turbid or contaminated water (for example, humic substances, metals and petroleum) to eliminate false negatives in downstream applications such as qPCR

--  ClearMag® technology: Magnetic beads designed with a unique coating that enables hands-free purification of high yields of pure nucleic acids in a high-throughput format



The PowerMag® Air & Water DNA/RNA Isolation Kit is an extension of MO BIO's PowerWater® line of DNA and RNA isolation kits, which are the first choice of environmental agencies and public health departments for applications such as air and water quality monitoring. The kit is compatible with air and water samples collected on a variety of filter membrane types including mixed cellulose ester, polyethersulfone, polycarbonate and nylon.



The PowerMag Air & Water DNA/RNA Isolation Kit is available now. For more information, visit the MO BIO website (www.mobio.com/water-dna-isolation/powermag-air-water-dna-rna-isolation-kit-optimized-for-epmotion.html) or call 800-606-6246.



MO BIO Laboratories, Inc. (http://www.mobio.com) has developed innovative tools for researchers in molecular biology since 1993. A global leader in solutions for soil, water and microbial nucleic acid purification, MO BIO's Power kits contain patented Inhibitor Removal Technology® for removal of PCR inhibiting substances during the nucleic acid purification procedure. At MO BIO Laboratories, Inc., our focus is quality products that work, save time and function for all sample types, not just the easy ones. It is MO BIO's aim to make researchers' working lives more productive and efficient, creating time to focus on what is critical, not just in work, but in life.



CONTACT: Heather Martinez, Senior Product Marketing Manager, MO BIO Laboratories, Inc., 760-929-9911



Web Site: http://www.mobio.com

More from Machinery & Machining Tools