DMP XR150|XR350|XR550 Earns CSFM Listing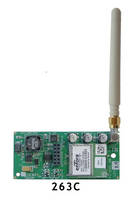 More Panel Options for Household Fire



We are pleased to announce that DMP has earned the California State Fire Marshal (CSFM) listing for the XR150/XR350/XR550 Series Control Panels.



The 32-bit processors allow the new panels operate at 20 times the speed of the older DMP XR500 panels; with 10/100 Ethernet auto-sensing that always ensures the fastest-possible network connection. The XR150|XR350|XR550 offers 142, 374, or 574 zones, respectively with a choice or Net/Cell/Dialer. They deliver powerful access control capabilities, and dealers will be impressed by the speed improvement and enhanced scheduling in the XR150|XR350|XR550 Series panels.



The XR150|XR350|XR550 panels include built-in LX buses, so there is no need to purchase or install additional cards for panel expansion.  In addition to faster speeds, all three panels offer enhanced access control features, including 99 programmable schedules for areas, doors, profiles, outputs and Z-Wave® favorites. For systems equipped with Z-Wave control of lights, locks, thermostats, etc., the panel offers up to 20 favorites, which incorporate commands up to 25 Z-Wave devices each.



The optional plug-on CDMA Verizon and HSPA+ ATT cellular communicators allow for MyAccess™, the DMP App, and Central Station connections. Our exclusive Adaptive Technology™ and the availability of up to eight communication paths provide a multi-level communication backup that ensures a constant connection between the panel and the Central Station. It is important to note that when adding a 263C CDMA or 263H HSPA+ Cellular Communicator, a 381 cable should be ordered for the installation.



Mobile Control Options



DMP offers two options for users to manage and monitor their systems via mobile devices. With the downloaded DMP App, users can take control with a rich, graphical interface on their smart phones or tablets. They can also remotely view video cameras connected to their system and control Z-wave® devices. MyAccess™ relies on simple text messages from any type of cell phone to send panel commands and receive system alarms or alerts. Both MyAccess and the DMP App provide dealers with new RMR opportunities by offering these value-added features and related cellular panel connection.



Please visit dmp.com/XR550 for further information.



For questions or more information, please contact one of our Customer Service Representatives at CustomerService@dmp.com or one of our Tech Support Technicians at TechSupport@dmp.com. You may also call us at 1-800-641-4282.



Copyright © 2013 Digital Monitoring Products, Inc., All rights reserved.



Visit us at www.dmp.com.

More from Materials