DMLS System features quad-laser design.
Press Release Summary: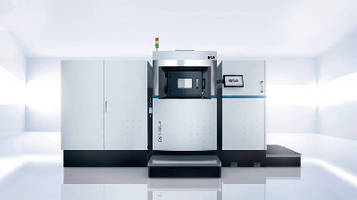 Offering build volume of 400 x 400 x 400 mm, EOS M 400-4 is equipped with four 400 W lasers operating independently in 250 x 250 mm squares each, including overlap of 50 mm. Patented EOS ClearFlow process gas management technology ensures optimal and consistent processing conditions. Operated via touchscreen and task-based GUI, system ensures compliance with industrial production requirements by using EOSTATE Monitoring Suite to monitor powder bed, laser power, and variety of parameters.
---
Original Press Release:

With the EOS M 400-4, EOS Introduces Its Biggest and Fastest System for Direct Metal Laser Sintering (DMLS)



The new system shatters the boundaries of manufacturing with regards to productivity, industrialization and part quality



Warwick, – EOS, the global technology and quality leader for high-end Additive Manufacturing (AM) solutions, introduces its highly innovative system for Direct Metal Laser Sintering (DMLS) at the IMTS show in Chicago (Sept. 12-17). Designed for industrial applications, the ultra-fast, quad-laser system expands the EOS DMLS offering by building on established EOS technology, yet taking it to the next level in terms of productivity, part quality and scalability to meet manufacturing requirements.



Andreas Graichen, Group Manager, Finspang Additive Manufacturing Centre of Competence, Siemens Power Generation Services states: "We chose the EOS M400-4 system to bring our AM activities to the next level: from a small scale, single laser unit to a larger scale, multiple laser unit. By using a wider building platform, with the higher productivity it provides, and pairing it with a new handling system, new thinking in gas turbine design can be brought into the industrial workshop." And he adds: "The Additive Manufacturing technology provides us with the speed and efficiencies needed to progress in the energy industry's fast-moving digital environment. And as such makes Siemens a unique player in the field of highly efficient power generation technologies."



Dr. Adrian Keppler, Chief Marketing Officer (CMO) at EOS ads: "Following our strategy to establish the Additive Manufacturing technology for production in all industries we have developed this pioneering DMLS system. The EOS M 400-4 is a perfect addition to our industrial systems portfolio. It shatters the boundaries of manufacturing as it meets the most demanding requirements of our industry partners in terms of efficiency, scalability, usability and process monitoring." And he continues: "As the system offers a modular platform designed for industrial 3D Printing, it can easily be integrated into existing production environments and the customer set of future innovations."



Building on the trusted EOS metal AM benchmark

The EOS M 400-4 expands the high-performance offerings of DMLS systems. It offers a large building volume of 400 x 400 x 400 mm and is equipped with four 400 Watt lasers operating independently in 250 x 250 mm squares each including an overlap of 50 mm. The exceptional beam and power stability ensures highest DMLS part quality. The system builds on the well-established and validated process of the EOS M 290 technology. It takes innovation to the next production level as it quadruples productivity. As such it is the perfect choice for those Additive Manufacturing applications that need an up to four time's faster production of metal parts.



New EOS ClearFlow process gas management system

As part of the EOS M 400-4 system, the patented EOS ClearFlow process gas management technology ensures optimal and consistent processing conditions. It distributes the process gas in an intelligent way to avoid interference of the lasers with side products of the melting process. In addition, the integrated industrial-grade, recirculating filter system with its long filter lifetime significantly reduces operating times and expenses.



Intuitive software, improved usability, EOSTATE Monitoring Suite

Usability and workflow on the EOS M 400-4 have been designed to meet demanding production requirements. The intuitive software offers workflow flexibility and efficiency. The system is easily operated via a touch screen and a task-based graphical user-interface. The extensive EOSTATE Monitoring Suite ensures compliance with the requirements of industrial production: it enables monitoring of the powder bed, of a variety of parameters as well as the laser power. Data Preparation and calculation is separated from the building process: the file prepared at desk is transmitted via the network. The system focusses entirely on building parts.



Material and process portfolio

Initially, the materials EOS NickelAlloy HX as well as EOS MaragingSteel MS1 will be available for the EOS M 400-4 and more materials and processes will follow soon. Parameters can be modified to meet individual application requirements using the EOS ParameterEditor.



To learn more, visit us at the IMTS show in Chicago, USA: September 12-17, booth N-79.



About EOS

EOS is the world's leading technology and quality leader for high-end solutions in the area of additive manufacturing (AM). The company, which was founded in 1989, is a pioneer and global leader in the area of direct metal laser sintering, and also a provider of a leading polymer technology. For these industrial 3D printing processes, EOS offers a modular solutions portfolio that consists of systems, software, materials, as well as technical and AM consulting services. EOS is the partner of choice for industrial AM-based production, and provides long-term solutions for industry. Customers using these solutions are able to take advantage of light-weight structures, cost reductions based on functional integration, product customization and accelerated product development and production. www.eos.info



Contact:

EOS GmbH Electro Optical Systems

Claudia Jordan

Public Relations Specialist

Phone: +49 (0)89 893 36 2134

E-Mail: claudia.jordan@eos.info



More from Machinery & Machining Tools