DME to Display Wide Range of Engineered Hot Runner Solutions at NPE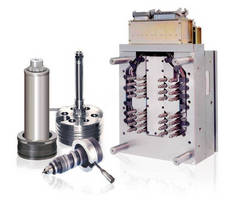 Learn how DME can be your most complete partner in mold technologies at booth #2803

Madison Heights, Mich. - DME Company, a leading manufacturer of mold technologies, will be presenting a wide range of its hot runner products at NPE 2012, booth #2803.

For over 30 years, DME has offered a full spectrum engineered solutions essential for hot runner applications - everything from unitized valve gates to hot sprue bushings to complete turnkey hot halves ready to bolt on and operate. The company will be demonstrating many of its existing and new technologies at NPE in Orlando, Fla., from April 1-5, 2012.

"DME has been a leader in hot runner technology for nearly 40 years, but we never stop striving to be a better resource for our customers," said Craig Kovacic, DME Hot Runner Business Manager. "We continually seek out opportunities to make improvements that meet our industry demands, and as a result, we provide engineered solutions that make us a true partner to our customers."

Through its parent company, Milacron LLC, DME is linked into a vast network of resources and institutional knowledge that enable its engineers to better understand how its product fit into an overall production scheme for its customers.

"The most important component we offer our customers is our people," said Kovacic. "They are directly connected to the real-world needs of the industry. So they don't just build products; they serve as engineering partners to help our customers optimize efficiency it every way they can."

DME provides rugged, energy-efficient systems, and backs them with service and support that customers have grown to rely on. Today, the company continues to develop a new generation of hot runner systems that give customers marketplace competitive edge.

In fact, the company is now able to provide a number of "off-the-shelf" hot runner solutions, including components with same-day shipping, manifolds & components in 3-4 weeks, unitized systems in 4-5 weeks and full hot half systems in 5-6 weeks.

At NPE, DME will be showcasing the following systems and components, among other products:

o Manifold & Components DME delivers custom manifold and all critical components - including nozzles, heaters, support pads, dowels, terminal boxes and a design guide for layout of pocket machining. The manifold arrives completely machined to customer specifications with flow channels, both horizontal and vertical, and end plugs. Fast delivery is available on any of DME's open gate hot runner nozzles, including leading lines such as Stellar, Galaxy, Hot One, Gate-Mate and Cool One.

o Unitized Systems DME also offers Unitized Hot One, Galaxy and Stellar Systems. If customers lack the time or resources to assemble the manifold and components, these open gate or valve gate systems arrive plumbed, assembled, pre-heated, tested and ready to go.

Besides saving customers valuable time, a unitized system:

o Prevents potential damage (pinched thermocouples, cut wires, etc.)

o Ensures proper wiring and plumbing

o Eliminates potential leaks with properly installed seal rings

DME will also be introducing its new Unitized Valve Gate Hot Runner Systems at NPE. DME's valve gate hot runner systems offer superior cosmetics coupled with a simple setup. Just drop in the fully unitized valve gate system because everything is plumbed, assembled, pre-heated and tested before shipping. Choose from a comprehensive selection of high-quality components and systems for nearly any type of material.

o Full Hot Half Systems DME is also able to deliver a complete package system - matching unique gate locations, materials and other parameters. The systems are delivered fully wired with prepped water cooled plates and with riser pads and other components already fitted - eliminating the hassle of leaks or other headaches. With simple machining of the clearance bores, customers are ready to bolt on the A plate and start molding right away.

To learn more about DME hot runner systems, please visit www.dme.net/dme/products/hot_runner_sys.html.

Media

For more information please contact Amanda Payne at: (414) 274-3010 or [email protected].

About DME

DME Company is an essential mold technologies resource to customers worldwide. Through aggressive new product development, global product standardization and a powerful combination of in-house manufacturing centers of excellence and strategic global partnerships, DME is helping customers succeed in changing times. The company's standard-setting, comprehensive product line - including hot runner systems; control systems; mold bases and components; mold making and molding supplies; and cold runner systems for elastomers - is backed by expert technical service every step of the way. DME also manufactures and sells standard tooling for the die-casting industry. Visit www.dme.net for more information.