DIY Tile Floor Heating System is waterproof, GFCI-protected.
Press Release Summary: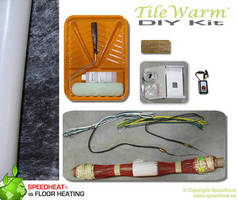 With sizes ranging from 20-300 ft² with options for 120 V systems up to 150 ft² and 240 V systems for 60-300 ft², TileWarm(TM) DIY features micro-thin element that is less than 1/16 in. and causes no floor buildup. Kit includes heaters needed for coverage specified, continuity monitors for each heater, SecuraMat(TM) protective membrane, and installation information/accessories needed. Shielded, helically wound element with full ground surround eliminates risk of overheating.
---
Original Press Release:
New TileWarm DIY Tile Floor Heating System Available Online
TileWarm DIY under tile electric radiant floor heating systems available for online ordering for do it yourselfers offered by Speedheat. Atlanta, Georgia - Speedheat has extended their energy efficient product line of under floor heating systems to include the new TileWarm(TM) DIY under tile heating system kits for the handy do-it-yourselfers, who prefer the ease of ordering online. As with all Speedheat products, TileWarm(TM) DIY is waterproof and GFCI-protected with a shielded, helically wound element with full ground surround, so there is no risk of overheating or electric shock. The micro-thin element is less than 1/16 inch and causes no floor buildup, saving on installation costs, preparation, and installation time. TileWarm(TM) DIY heating kits are now available for easy online ordering at www.TileWarm.com. 38 heating system kits are available with sizes ranging from 20 square feet of heated floor space to 300 square feet with options for 120v systems up to 150 ft² and 240v systems ranging from 60 ft² - 300 ft². Each TileWarm DIY kit includes: o All heaters needed for the coverage specified. o Continuity monitors for each heater to alert to any damage to the heater(s) during installation. o SecuraMat(TM) protective membrane to ensure trouble-free installation and significantly decrease the likelihood of damaging the element during system and tile installation. o All installation information and accessories needed, including MatTac(TM) bonding agent with roller, tray, and a smoothing block, and detailed electrical requirements and installation instructions. "We want to offer our customers as many options as possible to make their experiences with Speedheat the most pleasant possible," says Peter Newman, President of Speedheat US. "While there are some customers who prefer installation services and/or customized heating systems, we understand that many would like to order their heating systems as quickly and easily as possible whenever they like. Making the TileWarm(TM) DIY product line available for online ordering with the additional SecuraMat protection provides just the flexibility that the handy do-it-yourself customers have come to expect." As always, customized heating systems are offered by Speedheat free of charge for under all floor coverings including TileWarm. In order to obtain a free, customized quotation for all Speedheat products, customers, builders, or contractors can fax or email a drawing of their floorplan directly to the Speedheat Corporate Office in Atlanta, Georgia. The drawing is essential for pricing and system accuracy for a customized system, and there is no obligation to make a purchase. The drawing can be simply a rough sketch with exact dimensions of all areas and thermostat placement preference. Speedheat requests the following information for the most accurate quotation and a correctly customized system. 1. Drawing with measurements (exact dimensions) and placement of any large furniture, cabinets, doorways, drainage openings, etc. 2. SmartStat(TM) thermostat location preference. 3. Floorcovering 4. Subfloor 5. Floorcovering installation method (i.e. glued, floating, nailed, and anything out of the ordinary for tile, carpet, etc.) 6. 120V or 240V system preference if applicable. 7. Whether system will be used for floor warming, supplementary heating, or primary heating. 8. Time frame for the job. 9. Contact information, such as name, company, address, email, phone, fax, etc. The location is important because the systems are customized according to heating needs by climates. About Speedheat: As the inventors of Generation4(TM) electric radiant floor heating, Speedheat has produced quality, energy-efficient heating solutions for over 20 years. With offices in more than ten countries, Speedheat is currently providing over 50,000,000 square feet of comfortable, safe, and energy efficient electric radiant floor heating under carpeting, area rugs, laminate, hardwood, tile, vinyl, showers, and more worldwide. Speedheat systems can be used as primary heating, supplementary heating, or floor warming. Speedheat US is located at 120 Arnold Mill Park in Woodstock, Georgia 30188. For more information, please call 1.888.WARM.FLOOR (1.888.927.6356) or visit www.speedheat.us. Company Name: Speedheat Floor Heating Address 1: 120 Arnold Mill Park City: Woodstock State: GA Zip: 30188 Country: USA Phone: 888-927-6356 URL: www.speedheat.us
More from Electrical Equipment & Systems