Diverter Valve offers adjustable alignment stops in housing.
Press Release Summary: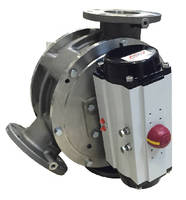 Constructed with cast iron or aluminum housing, tunnel, and end plates, 2nd Generation PT45 Parallel Tunnel Diverter Valve offers 2-way switching capability for either dilute phase or dense phase conveying applications. Positive food-grade rubber silicone seal at each port helps prevent contamination. Other features include position indication from tunnel itself, 45° port-to-port rotation, and pneumatic actuator that provides 2–4 second actuation between ports.
---
Original Press Release:

Announcing the 2nd Generation Parallel Tunnel (PT45) Diverter Valve



The 2nd generation of the Schenck Process PT45 Diverter Valve introduces new features such as adjustable alignment stops located in the housing, position indication from the tunnel itself, additional actuation options and external tunnel position indication.   A positive food grade rubber silicone seal at each port is designed to help prevent contamination.  



Additional features include 45° port-to-port rotation, a 2-way switching capability for either dilute phase or dense phase conveying applications, cast iron or aluminum housing, tunnel, and end plates with a 316 stainless steel actuator and arm assembly, and inlet and outlet ports flanged to mate 150# ANSI flange patterns.  The housing and tunnel on the aluminum valve are hard anodized for wear resistance. To complete the unit, a pneumatic actuator providing a 2 to 4 second actuation time between ports, a 4-way double solenoid air control valve with a NEMA 4 enclosure, and a NEMA 4/4X position proof switch with 2 DPDT switch elements are included.



High temperature designs, electric actuators and cast 316 stainless steel housing, tunnel and end plates are also available options with the new version of the PT45 Diverter Valve.  



For more information on the PT45 Diverter Valve, contact Schenck Process at 816-891-9300 or by email at mktg@schenckprocess.com.



Schenck Process is a complete global source of highly accurate dry bulk solids pneumatic conveying, weighing and feeding systems with additional expertise in dust collection through a wide range of filter media.  For over 40 years our commitment to research and development has led to the creation of some of the industry's most advanced products and technologies. 



For more information regarding this press release, please contact Mike Karas at:

Schenck Process

746 E. Milwaukee Street

Whitewater, WI 53190

Phone: 800-558-0184

E-mail: mktg@schenckprocess.com

Web site: www.schenckprocess.com

More from HVAC