Distech DS1100 Parts Feeding Machine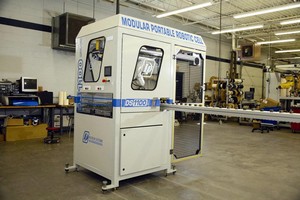 Increases Production, Reduces Repetitive Motion

Distech Systems DS1100 eliminates hand loading of testing equipment. This reduces the health problems associated with repetitive motion. A seven-axis articulating robotic arm provides greater dexterity for unloading parts from trays to conveyors and reloading them. Previous generation DS1100 were equipped with four-axis, non-articulating robots.

Distech has retained the DS1100s compact footprint by improving on the over/under conveyor design that delivers parts to the machine and takes completed parts or empty trays from the machine. The new system can accommodate virtually any tray for any application, including clean rooms.

While the DS1100s primary function is feeding parts to assembly operations, it can also be specified as a compact machine tool loader.

All Distech systems are complete, turnkey systems, and are capable of performing such secondary operations as testing, inspections, printing and scanning. This eliminates the need for additional onsite integration.

For information, contact Distech Systems, Inc., 1005 Mt. Read Blvd., Rochester, NY 14606. Phone 585.254.7020, or visit www.distechsystems.com.

More from Services