Position Sensors / Detectors / Transducers
Distance Measurement Sensor has 6 or 12 mm working distance.
Press Release Summary: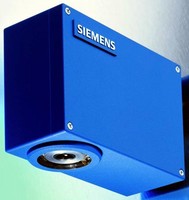 Combining confocal microscopy with high-speed scanning, Class II SISCAN Model SC consists of separate sensor head and electronics that can be interfaced to sensor head as far as 2.0 m away. Single point confocal displacement sensor performs 8,000 scans/sec with resolutions from 0.1-0.4 microns, regardless of surface conditions, and has flexible measurement range up to 1.6 mm. PC software provides GUI for sensor set up and application interface.
---
Original Press Release:

Metrology Resource Company Introduces a New High Speed Confocal Single Point Displacement Sensor for Distance Measurement



DETROIT, Michigan --- A single point confocal displacement sensor that combines confocal microscopy with high speed scanning for a wide range of measurements in various industries has been jointly introduced by Metrology Resource Company of Detroit, Michigan and Siemens Optical Solutions of Munich, Germany.

The new Siemens SISCAN Model SC high speed distance measurement sensor makes an industry high 8,000 scans per second with a resolution of 0.1 to 0.4 microns regardless of surface conditions at ultra-high accuracy.

Easy to integrate, the sensor also has a flexible measurement range of up to 1.6 mm, high ratio to depth measurement and a large numerical aperture.

Measurements made vary from height data from sharp peaks as well as depth date from small holes. Typical applications include height profiles, distance measurement, hole depth, flatness, waviness, roughness, thickness of transparent layers in a variety of industries including automotive, electronics, medical, metal, glass, optics, paper and others.

Metrology Resource Company will market the Siemens Confocal Displacement Sensor for Siemens Optical Solutions in the U. S. and Canada.

Sensor Described
The new Class II SISCAN Model SC single point confocal sensor from Metrology Resource Company and Siemens Optical Solutions consists of a separate sensor head and electronics. The electronics interfaces to the sensor head and can be as far as 2.0 meters away. The electronics is connected to the PC and camera via a USB. Power supply is 24VDC.

With the confocal measurement principal, the sensor projects a 1.0 or 2.0-micron spot onto the surface. The reflected light is read by the sensor and analyzed by the electronics. Working distance for the item to be measured is 6.0 or 12.0 mm, depending on the model selected.

The PC software provides a graphical user interface for set up on the sensor and the application interface. Both height and intensity are graphically profiled for quality control.

Siemens Optical Solutions is a leading supplier of optical 3D inspection system for high-speed measurement applications.

Besides the single point confocal displacement sensor, Metrology Resource Company also markets a Siemens SISCAN Model MC64 confocal displacement sensor with 64 channels.

"We are pleased to be able to work with Metrology Resource to introduce these products into the US and Canadian markets," noted Erik Oliver Eyb, Business Development Manager of Siemens Optical Solutions. "Both products have unique features not found in other sensors of this type."

About Metrology Resource Co.
Metrology Resource Co. distributes a wide range of sensors varying from surface scanners for the visual check of object surfaces for scratches, pores, pits, voids and other such variables, to single point sensors such as auto focusing, co focal and triangulation to White Light Interferometers.

For more information on Siemens Confocal Displacement Sensors in a single point or 64-point beam laser, contact Metrology Resource Company, 837 South Lapeer Rd., Suite 207, Oxford, MI 48371 call 1-800-660-2680 or (248) 628-8671, FAX 248-628-8712 or e-mail david@metrologyresource.com.

Metrology Resource can also be found on the web at www.metrologyresource.com.

More from Software