Disposable Cell Strainers remove junk from FLOW and FACS samples.
Press Release Summary: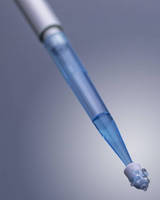 Accelerating efficient filtering while minimizing sample loss and reducing risk of cytometer clogs, Flowmi™ Cell Strainers help researchers process volume samples <1,000 µL for Flow Cytometer and Fluorescence-Assisted Cell Sorting analysis. Sterile products, available in 40 µm porosity, can be used with 1,000 µL pipette tips. No special equipment is required for use; operators press-fit Flowmi onto pipette tip containing sample and depress plunger to dispense liquid through strainer.
---
Original Press Release:

Flowmi(TM) Cell Strainers Quickly and Efficiently Remove the Junk from FLOW and FACS Samples



Wayne, NJ – Flowmi™ Cell Strainers will revolutionize the way researchers process small volume samples (less than 1000µl) for Flow Cytometer (FLOW) and Fluorescence-Assisted Cell Sorting (FACS*) analysis. These new, innovative cell strainers by Bel-Art Products provide fast, efficient filtering with minimal sample loss while providing reduced risk of cytometer clogs.



"Until now there was no quick, efficient method of filtering small samples prior to FLOW or FACS* analysis," said Laura Geenen, Category Manager for Bel-Art Products. "In tests comparing Flowmi Cell Strainers to three competing strainers, at four pipetted volumes (50, 200, 500, and 1000µl), Flowmi ranked best in sample protection, with a demonstrated minimum loss of sample volume due to fluid retention inside the strainers."



Available in 40µm porosity, sterile Flowmi Cell Strainers can be used with a wide variety of 1000µL pipette tips including Fisherbrand Sure-One, VWR brand, Axygen, Nichiryo and Eppendorf. No special equipment is required to use the product. Simply press-fit a Flowmi onto the pipette tip containing the sample then depress the plunger to dispense the liquid through the strainer.  A quick flick of the tip eject button sends the spent tip and strainer to waste collection.



For maximum convenience, Flowmi Cell Strainers are packaged in a compact, covered tray and sealed in a zip-style bag. Product sterility can be maintained when opened and re-sealed in a laminar flow hood. The tray, which holds 50 Flowmi strainers oriented for immediate access, features a clear, sliding cover for easy, one-handed use. Workspace and storage footprint is minimal.



Suggested list price for the Scienceware® Flowmi™ Cell Strainers, catalog no. H13680-0040 is $89.25 for a pack of 50. To see Scienceware® Flowmi™ Cell Strainers in action, visit the Scienceware YouTube channel.



For more information about Flowmi Cell Strainers, or on the complete line of laboratory offerings from Bel-Art Products, call 1-800-4BELART, email info@belart.com or visit www.belart.com. To request a FREE copy of the Bel-Art Products Catalog, click here.



*FACS is a registered trademark of Becton Dickinson and Company



About Bel-Art Products

Bel-Art Products simplifies tasks with innovative product solutions for science, industry and healthcare. Over 3,500 items from safety wash bottles to fume hoods are manufactured and marketed under well-known brand names including Scienceware® laboratory products, Spinbar® magnetic stirring bars, Magic Touch™ icewares, Sterileware® sampling tools, H-B Instrument™ thermometers and hydrometers, Secador® desiccator cabinets, KLETT® colorimeters, and Poxygrid® racks. Established in 1946, Bel-Art Products is a United States based manufacturer headquartered in Wayne, NJ.

More from Architectural & Civil Engineering Products