Displays come in eighteen models.
Press Release Summary: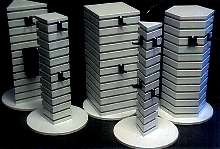 Slatwall and pegboard wall-mounted units, countertop cubes, multi tier cubes, pinwheels, triangles, spinners, H and A frame point of purchase units, gondolas, and shelf displays are available for immediate shipping. Customized colors, styles, and designs organize and display retail items such as potpourri, retail packaging, candles, perfumes, novelties, and jewelry. Wood and plastic displays are easy to install and accept all standard slatwall accessories.
---
Original Press Release:

Walls + Forms Offers Widest Range of Point of Sale Displays in its History


Walls + Forms Inc. of Dallas, TX, a designer, manufacturer, and distributor of display components and systems, now offers its largest variety ever of point of sale displays. Styles include slatwall and pegboard units. The line includes wall-mounted point-of-purchase; countertop cube, multi tier cube, pinwheel, triangle, spinner, "H" and "A" frame units, gondolas, shelf displays, and more. Eighteen models are available for immediate UPS and FedEx shipping and they can also be customized is colors, styles, and designs that meet one's specific needs.

Walls + Forms point of sale displays are ideally suited for organizing and displaying items as vast as one's imagination. Fast and easy to install by even a novice, they include ultrastrong wood and plastic floor displays and durable, lightweight, impact-resistant plastic counter displays. They enable the retailer to exhibit items in a setting that maximizes sales potential. The line is ideally suited for organizing and displaying potpourri, stuffed animals, retail packaging, candles, perfumes, keychains, novelties, jewelry, and much more.

Point of sale displays from Walls + Forms are fast and easy to install by even a novice. They are available at Walls + Forms with no minimums and are designed to accept all standard slatwall accessories, many of which can be purchased at Walls + Forms. Floor displays are inventoried in white, gray, black, almond and hardrock maple while counter displays are stocked in black and white.

Walls + Forms also has wall systems, modular service counters, temporary retail fixtures, slatwall partition walls, furniture vignettes, and much more.

For further information/free literature, contact sales department, Walls + Forms Inc., P.O. Box 741112, Dallas, TX 75374-1112 USA. Phone: 972-980-7320. Fax: 972-980-8424.
E-Mail: info@wallsforms.com Url: www.wallsforms.com

More from Controls & Controllers