Display Modules improve warehouse picking accuracy.
Press Release Summary: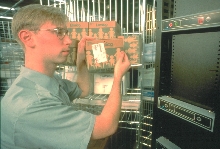 Pick-to-Light multi-color alphanumeric displays eliminate need for operators to travel aisles with paper pick list for selecting stored items from rack and shelf systems. Computer sends electronic pick list to modules, visually indicating pick location and quantity to be picked. Displays work with company's FastPic4 software, which can batch multiple orders simultaneously and put picks in sequential order, requiring less time by operator.
---
Original Press Release:

Pick-To-Light Workstations Increase Accuracy & Throughput To Enhance Warehousing Applications Profitability


By integrating pick-to-light workstations into order picking and warehouse applications, warehousing companies can increase storage and retrieval efficiency up to 300 percent. The easy-to-use Pick-to-Light Interface from FastPic Systems enhances the efficiency of static racks and shelving used in industrial applications and creates the foundation for the step-by-step integration of fully automated storage and retrieval systems.

The FastPic4 Pick-to-Light interface facilitates the integration of Pick-to-Light modules, a series of multi-color alphanumeric displays that control order picking operations. Pick-to-Light modules eliminate the need for operators to travel aisles with a paper pick list selecting stored items from rack and shelf systems. A computer sends the storage system an electronic pick list that activates Pick-to-Light modules, through FastPic4 software, visually indicating the pick location and the quantity to be picked. A Standard Interface Protocol provides an efficient "plug & play" direct link between host systems such as WMS, LESA, ERP, and other specific parts systems with FastPic4 inventory management and control software.

With its ability to manage multiple workzones, where several different types of storage and retrieval systems are used in a single operation, FastPic4 software also provides an easy transition for those companies in warehousing applications that wish to upgrade their manual systems or areas up to fully automated storage and retrieval operations in the future. With the software in place, the implementation time of any automated system can be significantly reduced.

With Pick-to-Light modules and FastPic4 software, industrial equipment order picking operations can be streamlined by allowing multiple orders to be batched simultaneously for increased throughput. Picks are arranged in sequential order, requiring less movement and less time by the operator. The system requires little operator training, and virtually assures that correct items are selected, reducing picking errors and improving employee efficiency. A variety of supervisory reports and inventory control options provide an added level of control and security.

FastPic4 software runs on Windows 95, 98, NT, and 2000 and supports any TCP/IP network. It is SQL/OBDC enabled for easier, faster database connectivity. The Standard Interface Protocol provides an efficient link between host order entry systems and FastPic4 software. FastPic4 also includes Internet- based help and technical support, plus software updates and downloads.

FastPic Systems, a company of the Kardex AG of Zurich, Switzerland Group, is a leading developer of software for automated storage and retrieval system operation. The KRI Group is a manufacturer and integrator of a broad range of AS/RS technologies including vertical lift modules (VLMs), vertical and horizontal carousels.


More from Fluid & Gas Flow Equipment