Displacement Transducers have virtually frictionless movement.
Press Release Summary: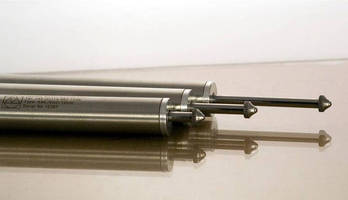 Useful for measuring displacement of soft, pliable materials, AML/SGD Series strain gauge displacement transducers offer stroke lengths from 0-5 to 0-100 mm. Internal construction ensures smooth, frictionless movement of inner core, resulting in minimal resistance and providing accuracy of ±0.1%. Design is based on 4-arm active Wheatstone Bridge, with nominal impedance of 350 ohms, which ensures low current consumption and temperature stability.
---
Original Press Release:

Expanded Range of Strain Gauge Displacement Sensors Now Available



A range of strain gauge displacement transducers is now available, which offer expanded stroke lengths from as low as 0-5mm up to 0-100mm. The transducers are fully interchangeable with alternative strain gauge displacement transducer models currently on the market and offer long service life and excellent mechanical reliability.

The AML/SGD Series of strain gauge displacement transducers from Applied Measurements Ltd produces a linearly proportional voltage output relative to the movement of a captive and guided spindle arrangement.

Compared to LVDTs, measuring displacement using strain gauges is generally more consistent and accurate. The unique internal construction of the AML/SGD transducer ensures a smooth, frictionless movement of the inner core, resulting in minimal resistance and providing consistent, high overall accuracy of <±0.1%.

Due to its virtually frictionless movement, the AML/SGD displacement transducer is less intrusive to the application, particularly if the customer is trying to measure the displacement of soft, pliable materials. Also, being strain gauge-based, the AML/SGD Series utilises simple DC electronics and so is compatible with a very broad range of standard analogue and digital instrumentation. With LVDT displacement sensors, often the instrumentation tends to be more specialised.

The design of the AML/SGD series is based on a four-arm active Wheatstone Bridge, with a nominal impedance of 350ohms. This design ensures excellent non-linearity, low current consumption and good temperature stability.

The AML/SGD is compact, rugged and easy-to-install and offers a high output signal. The transducers are used by a variety of industry sectors, including R&D, industrial, aerospace, civil engineering, automotive and marine/shipbuilding applications.

Peter Lewis, Managing Director at Applied Measurements Limited comments: "Several of our customers asked us to extend our SGD range of transducers because they were receiving a poor service from their existing suppliers. With the expanded SGD range, we can now meet these companies' delivery and quality expectations. Similarly, companies currently using LVDT sensors to measure displacement may consider using strain gauge based versions in the future."

For more information on the AML/SGD Series, please call the Applied Measurements sales department on 0118 981 7339 or email: info@appmeas.co.uk

Applied Measurements Limited (www.appmeas.co.uk) offers a comprehensive selection of transducers based on strain gauge technology. The company's product range includes sensors to measure load, pressure, torque and displacement. In addition, a custom transducer design service and strain gauge bonding facilities are available.

To support the transducer range, a variety of analogue and digital instrumentation is available, including high resolution, high speed and RS232/485 equipped signal conditioners and indicators, as well as portable battery powered indicators with integral data logging, enabling the company to offer complete systems with calibration traceable to UKAS standards.

In addition to the standard transducer range, the company also has the capability to design, develop and manufacture custom devices to meet specific needs. Expertise is based on bonded strain gauge technology, which is carried across the company's complete line of transducers. Involvement in customer projects can be at any stage, from development and design, through prototyping, testing and into full production.


More from Fluid & Gas Flow Equipment