Dispersions facilitate mixing of fluoroelastomer compounds.
Press Release Summary: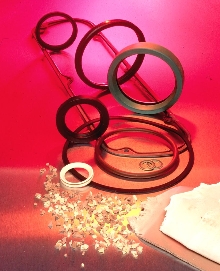 Cri-Spersion® activators for FKM compounds encapsulate and pre-disperse powdered formulations, allowing user to blend consistent, batch-to-batch end products. Dispersions are available in granulated or slab form and are used in products ranging from gaskets and seals to diaphragms, and other products which must be chemically resistant and withstand high temperatures.
---
Original Press Release:

New Dispersions From Cri-Tech Improve Quality Of FKM Fluoroelastomer Compounds And End Products


Also Speeds Processing, Resolves Moisture Problems and Reduces Costs

Hanover, MA- Cri-Tech, a leading fluorelastomer compounder, is now offering a line of specialty dispersions (activators) for FKM compounds. Cri-Spersion® dispersions enhance physical properties and reduce the cost of FKM compounds. They can be found in products ranging from gaskets and seals to diaphragms, and other products which must be chemically resistant and withstand high temperatures.

Originally formulated for the firm's in-house compounding needs, the dispersions are now being offered to compounders and fabricators worldwide who do their own compounding. Cri-Spersion dispersions allow compounders to disperse activators in one pass where sometimes it takes two or more times, thus saving additional time and money. More than a dozen standard formulations currently exist, and Cri-Tech will produce custom grades on request. It is available in either granulated or slab form.

Each grade in the Cri-Spersion line are dispersions of activators or other rubber chemicals in a fluoroelastomer base. Volume production by Cri-Tech enables the pricing of these dispersions to be only slightly more than other products currently being used, with the benefits far outweighing any cost differentials.

Cri-Tech will either mix for other compounders or sell Cri-Spersions dispersions directly to them.

Benefits of the newly offered dispersions begin by pre-dispersing and encapsulating the powders to resolve issues caused by humidity and moisture pickup. Other benefits include:

- QUALITY - better dispersion, improved uniformity and fewer rejects;
- CURE EFFICIENCY - faster cure, reduced activator level;
- SAFETY - safer handling, non-dusting; reduces costs; and
- CONVENIENCE - one step process; easier to mix, faster weighing and non-hygroscopic.
- END PRODUCT - better looking and performing.

Special Background
By way of background, a dispersion product is different from a powder. When compounders blend formulations, evidence of poor dispersion is seen when white specks of activator are visible in the final product. Humidity, machine variation, human factors are all variables that contribute to this problem. With a dispersion product, manufacturers can decrease rejected parts
by eliminating imperfections that result from undispersed activator agglomerates.

Cri-Spersions offer an alternative to the use of commercially available powder activators. One of the central drawbacks of using powder activators are the hydroscopic issues that compounders face using these products. The Cri-Tech product line eliminates this problem by encapsulating and pre-dispersing the powders, freeing the manufacturer to blend consistent, batch-to-batch end products. A full range of products is available, with additives offered in calcium hydroxide, magnesium oxide, dibasic lead phosphite, Diak #3, lead oxide, high activity magnesium oxide, calcium oxide, and food grade calcium hydroxide and magnesium oxide on an FDA approved fluoroelastomer base. Additional formulations are also available for special applications.

Cri-Tech, a division of IMMIX Technologies LLC, is North America's most advanced independent compounder and dispersions for FKM compounds. Cri-Tech sells its products to the automotive, aerospace, electronic, health care, and electrical markets. With a fully accredited A2LA laboratory, and ISO 9001 Certification in all phases of production, development, and
manufacturing comply to rigorous professional standards. Cri-Tech tailors its materials to its customers, with the focus on the end application. If one of the firm's standard compounds is not to specification, Cri-Tech will modify existing formulations or custom blend to meet the need. Toll mixing is offered as a service to customers.

For more information about Cri-Spersions dispersions and technical literature outlining the product line, contact: Marketing Department, Cri-Tech, 85 Winter Street, Hanover, MA 02339. Tel: 800-826-5699. Fax: 781-826-5770. E-mail: sales@immixtech.com. Web Site: immixtech.com


More from Materials